We are coming into to the home stretch regarding Siberian snow cover growth and the all important growth rate which is really what we want to focus on. The rate of growth continues to be rapid and swift across Siberia and is forecast by both the GFS and the Canadian models to extend its southern boundary over the next 10 days. The 2 standout things I noticed in this stretch is the rapid growth that is forecast to spread on both the southern and western flanks. The Canadian model in particular is very bullish along the southern flank while the gfs is a little less bullish on that end and more bullish on the western flank taking the boundary further west into Northern Europe.
We should also look at where we have been and where we have gone so far with all of this. It is important to put this all into context and see how this is all shaping up so that we get a better understand of what this may mean down the road. The anomaly so far shows above normal snow growth in Central and Eastern Siberia. It also shows above normal snow cover growth in Eastern Canada which is interesting.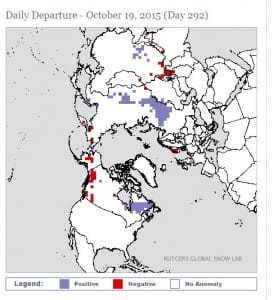 Snow cover in parts of Western Canada and parts of Alaska have been below normal. But notice that for a large part of the areas in question the anomaly is zero or near normal. With regards to the snow cover growth in Canada let us take a look at the actual snow cover as of today. Here are the 2 maps showing the change in the last 10 days.
You can see that both the snow cover and the sea ice has expanded in the last 10 days though the sea ice extent remains below average. Here is the map showing snow cover in Canada and particularly in Eastern Canada where it has been running above normal.
Im going to do a little more research on this as to whether the snow growth in Northeastern Canada is due to the strongly negative Atlantic Oscilliation and the negative North Atlantic Oscillation figures we have been seeing since July. I have not seen much written concerning this anomaly and whether it has any relevance however if displaced cold air from a Greenland block is at play then it would make sense to see snow expanding in that region. This is something I'm going to look into more deeply.
There are 2 things that I have noticed over the last few weeks that I find interesting. The first is there appears to be a large number of forecasters pointing to a back end loaded winter which, because I'm a natural contrarian makes me want to look at the other side of this trade. In other words usually when everyone is on the same side, they tend to be wrong so I want to see if there is a reason for me to perhaps consider something more front end loaded. By back end loaded I mean that not much happens until later January  and beyond like last year. The other thing is that we just saw a deep trough bring very cold air and early snows to parts of the northeast and flurries to our area. That set up reminded me of the pattern of last winter somewhat and led me to ask whether the warm Pacific Ocean off northwest Canada and the Gulf of Alaska will exert a stronger influence over the east while the water temperatures there remain well above normal. Many el nino supports suggest that the warm pool will disappear in the coming months and that this will become a typical el nino winter with warm conditions in the east and below normal snowfall. Add the negative NAO which means there will be more blocking then the previous 2 winters and you have nothing but more uncertainty and more confusion. Ultimately we have to wait until the end of the month to figure out the Siberian snow cover issue. The mystery over the winter of 2015-2016 deepens further but in the end I am going to have to make a forecast. In the past I have shied away from making a long range prediction but I may take a stab at it this year as I come to a better understanding of the long long range which has quite frankly, never been my strong suit. I never saw the usefulness since in the end it comes down to the short range and where the rain snow line is on any given event and I'm much better at events 3 days out verses 3 months out. If JOESTRADAMUS makes a winter prediction it will not come until after October is done.