Showers Today And Sunday Dry Saturday

The Friday after Thanksgiving has brought some showers as a cold front is moving through but the rain has not been anything particularly heavy and more of a nuisance. The satellite and radar loops shows everything moving along and the rains will be moving out by midday and we could see some improvement developing from west to east during this afternoon. Rainfall amounts will finish under a quarter of an inch and afternoon highs will be in the upper 40s to near 50 north and west of the big cities of NYC and Philadelphia and low to mid 50s to south and southeast.
SATELLITE

WEATHER RADAR

Everything is moving along in the atmosphere from west to east at a predictable pace so that means that cold fronts will come through every couple of days. The fronts will produce rain as they go by and there will be a day or two of dry weather in between. The next front will approach us on Sunday.
This leaves us with clearing skies tonight and overnight lows mostly in the 30s. Saturday will be a nice day and the better of the two weekend days as high pressure settles along the coast. There isn't much cold air around so highs will reach the low and middle 50s which as about right for this time of year or maybe a touch above average.
We will stay dry into early Sunday morning but as we move through Sunday morning, weather conditions will deterirorate as showers develop from west to east from Eastern Pennsylania to Southern New England. This cold front will pass through and the showers will come to an end late in the day or early evening from west to east. Again this is not going to be a big deal with a quarter to half inch of rain or prehaps a bit more depending on whether there are some heavier downpours in the mix.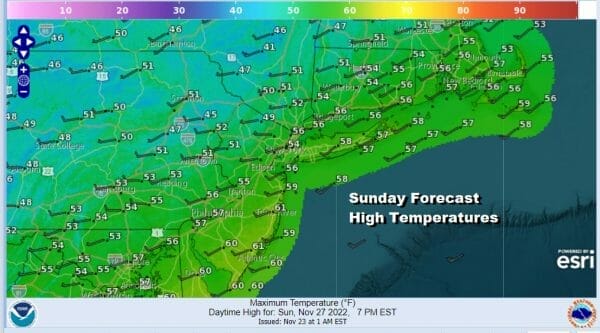 Sunday high temperatures will be in the mid to upper 50s. As this system passes we have another shot of dry air coming in for the start of next week giving us dry weather and sunshine for Monday and Tuesday. High Temperatures Monday will be in the low to middle 50s. Tuesday will be a little cooler but still a nice day overall with most highs in the mid to upper 40s. Wednesday brings the next cold front which is pretty much a repeat performance of Sunday with clouds arriving early and rain developing during the day and mostly done by Wednesday evening. Wednesday highs will be in the mid to upper 50s. Then it turns dry and cooler for Thursday and Friday. No major storms are on the horizon at the moment.
Please note that with regards to any severe weather,  tropical storms, or hurricanes, should a storm be threatening, please consult your local National Weather Service office or your local government officials about what action you should be taking to protect life and property.