Showers Thunderstorms This Evening Wind Advisory Later Tonight Into Monday

Weather in 5/Joe & Joe Weather Show Latest Podcast
Showers Thunderstorms This Evening Wind Advisory Later Tonight Into Monday
The warm front is through and now we wait for the cold front to pass this evening. Radars are showing thunderstorms and heavier showers in a narrow line moving across Pennsylvania. They should pass through this evening and there could even be a severe thunderstorm in the mix.
After the front passes offshore low pressure will strengthen to our northeast and the pressure gradient tightens up again. Wind Advisories are posted for areas from Northern New Jersey northeast through New England.
Winds will be their strongest through Monday morning. This time around the strongest winds will in New England with some gusts reaching 50 mph at times. South and west of NYC however winds will gusty will be under wind advisory criteria and winds will start to slowly ease during Monday afternoon.
SATELLITE

Overnight lows into Monday morning will be in the 40s. Temperatures Monday afternoon will be in the 50s for highs. Some sunshine will be in the mix as well so it will be another late March day with the wind machine turned on. This is the 5th time this month we have seen wind advisories. In terms of weather conditions Tuesday looks like the best day of the week with sunshine and highs in the 60s with not much in the way of wind other than local sea breezes along south and east facing shorelines.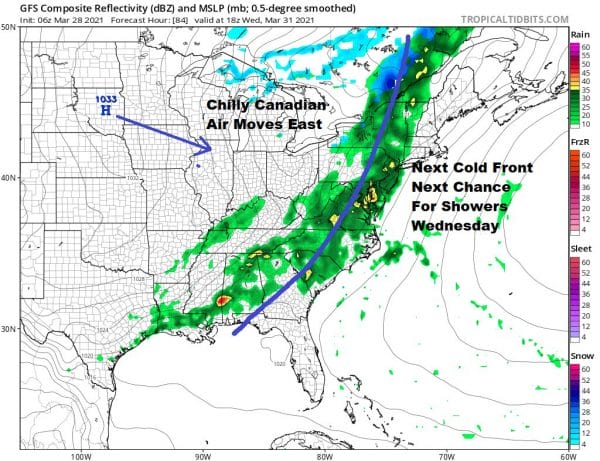 Wednesday begins the next round of changes. Another cold front will approach and showers will move in from west to east during the  afternoon. The front passes and slows as a developing wave forms on the front in Virginia and heads into New England on Thursday.
Rain will continue into Thursday morning before ending by midday. Inland in Northeastern Pennsylvania to the Catskills and points north and east into Upstate NY and Central and Northern New England there will be a change to snow and some areas especially in elevated areas could see several inches of wet snow or more. Otherwise it will be a raw cold day with the wind machine going on again and temperatures Thursday in the 40s. As mentioned earlier a blocking pattern developing in the North Atlantic will keep temperatures colder than average Thursday through the Easter Weekend. No important precipitation is forecast for the weekend other than the chance for a few passing rain showers (or snow showers inland) Saturday night as a weak disturbance moves through. If you are looking for a return to warm spring weather you may have to wait awhile until the block to the northeast breaks down.
MANY THANKS TO TROPICAL TIDBITS FOR THE USE OF MAPS
Please note that with regards to any severe weather,  tropical storms, or hurricanes, should a storm be threatening, please consult your local National Weather Service office or your local government officials about what action you should be taking to protect life and property.