Showers Exit Slow Improvement Late Today Nice Wednesday Thursday Showers Friday
While the bulk of the rain was on Monday we still had some leftover showers to deal with overnight and for the first part of today. Low pressure is going to eventually move to the northeast. Most of the rain is done inland but we are stills see some showers around along coastal areas as well as into Southern New England. This should all move to the northeast and while most of the area will be cloudy to start the day, we might see some improvement later this afternoon in parts of Eastern Pennsylvania and Western New Jersey. Clouds will linger longer to the east.
SATELLITE

REGIONAL RADAR

Radars are showing patchy showers along the coast as well as showers well to the west in Western NY and Western Pennsylvania. That is with a cold front that is moving east and will eventually put an end to all this once it goes by. Temperatures today will be mostly in the 60s.
LOCAL RADAR NEW YORK CITY
LOCAL RADAR PHILADELPHIA

We should dry out tonight as skies clear from west to east. Most lows will be in the mid 40s to lower 50s. Wednesday and Thursday look like two nice days with sunshine. Highs will be in the mid 60s to around 70 Wednesday and upper 60s to some lower 70s on Thursday.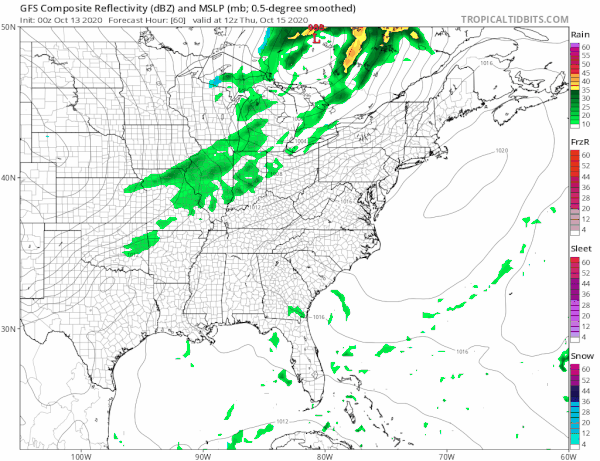 The next cold front is due Friday as low pressure swings across the Great Lakes and a wave develops on the front and moves northeastward into New England. It looks like we will see some showers later Friday into Friday night. Once  the front goes by a shot of chilly air comes in for the weekend. Friday's highs will be in the mid 60s to lower 70s but Saturday and Sunday highs will be just in the 50s. We should see some sunshine both weekend days.
MANY THANKS TO TROPICAL TIDBITS FOR THE USE OF MAPS
Please note that with regards to any severe weather,  tropical storms, or hurricanes, should a storm be threatening, please consult your local National Weather Service office or your local government officials about what action you should be taking to protect life and property.