Showers Ending Colder Air Follows Into Wednesday Nice Mild Thanksgiving Day

Weather in 5/Joe & Joe Weather Show Latest Podcast
Showers Ending Colder Air Follows Into Wednesday Nice Mild Thanksgiving Day
Thanksgiving week begins on a relatively quiet note across the nation. Usually there is at least one winter storm somewhere driving weather conditions across a vast area for the week. This year there is an absence of storminess over most of the US from coast to coast. We are seeing minor inconveniences this morning across the East as a cold front is moving through.
Another front will move through Friday in the East. Otherwise it is all good. Clouds are around with this first cold front passing and showers are on the radar but those showers will shortly be moving offshore. Weather conditions will start to improve with leftover clouds giving way to some sun from west to east. There will be a gusty wind developing bringing down cold air and temperatures will ease into the 40s.
SATELLITE

WEATHER RADAR

Tonight will be the coldest night of the autumn season so far with skies clear and a gusty wind. This will keep the temperatures rather uniform. Lows by Tuesday morning will be in range from the mid 20s to lower 30s.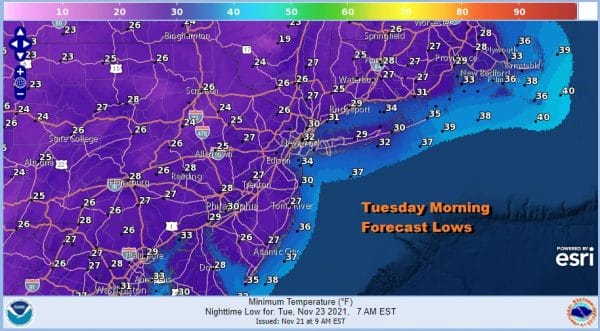 Tuesday will be a cold day though we will have some sunshine. A gusty wind will continue at times though the winds will be nothing extraordinary. Gusts will be up to 20 to 25 mph. Maybe the odd gust will reach 30 mph. It will just add to the cold feeling with highs just barely back to the lower 40s. In fact some inland areas may barely get back to 40.
The core of this cold air mass pulls out on Wednesday leaving us with a nice day of sunshine and highs will reach the mid to upper 40s. The warm up continues on Thursday. Thanksgiving day will be a nice day of sunshine for most of the day. Highs will reach back up into the low and middle 50s.

Thursday night into Friday morning will be a repeat performance of today where a front approaches and brings showers Thursday night only to see the front move offshore Friday morning ending the showers. Then another cold air mass comes in behind it and it is likely that we will see below average temperatures through the weekend and into next week.
It also looks to be a storm free period into the end of the month and the start of December. Once showers end Friday will see leftover clouds give way to some sun as temperatures ease again and then it is on to a cold weekend. It looks like lows Friday night and Saturday night will be in the 20s to around 30. Daytime highs will be just in the upper 30s and lower 40s with sunshine both Saturday and Sunday.

Please note that with regards to any severe weather,  tropical storms, or hurricanes, should a storm be threatening, please consult your local National Weather Service office or your local government officials about what action you should be taking to protect life and property.