Showers Around Today Severe Weather Risk Thursday Friday Weekend Outlook
Flash Flood Watch Much of New Jersey & Eastern Pennsylvania
Today we will see the third wave in a series of 4 moving through the area along a stalled frontal boundary. Nothing much has changed since yesterday. These waves are not strong enough to get the frontal boundary to move significantly in any direction so we basically remain stuck. The boundary zone has been sitting across Central New Jersey and cuts Pennsylvania in half from east to west. It is warm and humid to the south of it with occasional thunderstorms and severe weather threats. Temperatures here reach into the 80s To the north it is cloudy and muggy with rain and occasional thunderstorms with temperatures in the 70s.
SATELLITE

REGIONAL RADAR

Regional & local radars are not nearly as busy as they were at this time yesterday. We are seeing some scattered showers around moving to the east northeast. We don't see continuous rain and downpours. Rather we expect showers and thunderstorms that develop to be in clusters and scattered around later this afternoon and evening.
LOCAL RADAR NEW YORK CITY
LOCAL RADAR PHILADELPHIA

Many areas yesterday picked up 1 to 2 inches or more of rain so clearly the ground is saturated. Flash Flood Watches are posted again for this afternoon and tonight. It won't take much rain to cause flash flooding today so be alert when heavy rains develop this afternoon and evening in some areas. Highs today will be in the 70s to near 80 in warm spots with 60s to near 70 along the immediate coast.
On to Thursday where the 4th and final wave will approach. This one is different. It is the strongest of the 4. It has the upper air support to buckle the frontal boundary and eventually get it out of the way. Low pressure will be moving across Ohio and Pennsylvania. This is going to set up a distinct warm sector on Thursday and an increasing risk of severe weather. The Storm Prediction Center has our area in marginal to slight risk for severe thunderstorms late Thursday afternoon and evening.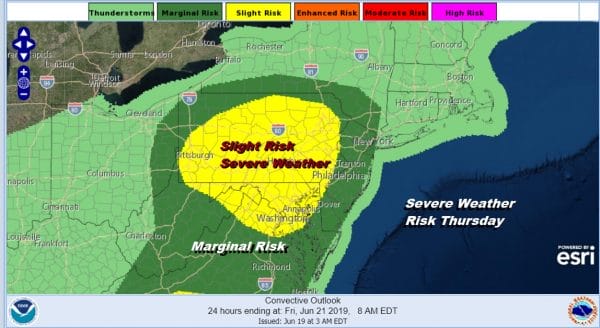 Thursday will be very warm and humid with most areas reaching into the low to mid 80s with 70s north and east of NYC. We will be paying close attention to this on Thursday given the robust dynamics in the atmosphere. The low will move east into the Gulf of Maine Friday and strengthen with the cold front well offshore at this point. Weather conditions will being to improve Friday with gusty northwest winds, decreasing clouds and increasing afternoon sunshine. Highs Friday will be in the 70s.
The weekend to me looks good. Saturday we will see sunshine and breezy conditions early before winds drop off with highs in the 70s to near 80. Sunday we will still see some sunshine as an upper high holds along the east coast long enough to keep things dry. Sunday's highs will be in the mid 70s to lower 80s. No rain is forecast for the weekend which is well deserved considering the rains of this week.
MANY THANKS TO

TROPICAL TIDBITS

FOR THE USE OF MAPS
Please note that with regards to any tropical storms or hurricanes, should a storm be threatening, please consult your local National Weather Service office or your local government officials about what action you should be taking to protect life and property.