Shower Threat Snow Burst Strong Winds Sunday
As we move through Friday and the weekend there is alot going on. We have a weather front moving through Friday with some showers and thunderstorms possible ahead of it beginning overnight and through Friday. The front stalls and there could be a period of rain on Saturday. Then a powerful storm forms Sunday morning east of Long Island producing strong winds to over 50 mph Sunday morning and into the afternoon.
This evening we are seeing clouds beginning to move in on the satellite loop. Winds off the ocean are impacting temperatures along the coast but it is warm inland. Temperatures overnight will remain in the 50s to near 60. Showers should not be widespread in nature but there could be some around for the Friday morning commute.
Satellite & Radar Loops

Shower Threat Snow Burst Strong Winds Sunday Local Radar Loops
Radars are beginning to show some showers to the west but the first batch is not very impressive. Some showers are beginning to form south and west of us and those should expand some as we head toward midnight and the early morning hours. There should be a break in the action for a little while on Friday as temperatures make a run for the upper 60s to middle 70s. Some more showers and perhaps a thunderstorm is probable Friday afternoon and Friday evening.
Once those are done, the front goes by and stalls offshore. A wave on the front will bring some rain in Saturday morning into the afternoon. It should not amount to much but it will keep Saturday rather grey. Temperatures might make the 60s but should begin cooling off into the 50s later in the day and at night.
Shower Threat Snow Burst Strong Winds Sunday Wind Gust Forecast Sunday Morning
Shower Threat Snow Burst Strong Winds Sunday Snowfall Forecast
Saturday night starts calm but after 4am a storm is going to explode just east of Long Island. This not only brings down cold air, but it will create a very tight pressure gradient for Sunday with winds gusting to 50 mph or more especially along the coast. Coastal and Southern New Jersey might see the strongest gusts. The wind map above is an early look at winds Sunday morning and I believe they are underdone. Also I can see the possibility of a burst of snow early Sunday morning which could whiten up the ground in spots especially in elevated areas. Sunday's temperatures will just be in the 40s at best and the winds will make it feel a lot colder.
FiOS1 News Weather Forecast For Long Island
FiOS1 News Weather Forecast For New Jersey
FiOS1 News Weather Forecast For Hudson Valley
LATEST JOESTRADAMUS ON THE LONG RANGE
Weather App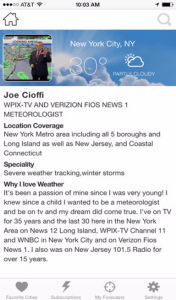 Don't be without Meteorologist Joe Cioffi's weather app. It is really a meteorologist app because you get my forecasts and my analysis and not some automated computer generated forecast based on the GFS model. This is why your app forecast changes every 6 hours. It is model driven with no human input at all. It gives you an icon, a temperature and no insight whatsoever.
It is a complete weather app to suit your forecast needs. All the weather information you need is right on your phone. Android or I-phone, use it to keep track of all the latest weather information and forecasts. This weather app is also free of advertising so you don't have to worry about security issues with your device. An accurate forecast and no worries that your device is being compromised.
Use it in conjunction with my website and my facebook and twitter and you have complete weather coverage of all the latest weather and the long range outlook. The website has been redone and upgraded. Its easy to use and everything is archived so you can see how well Joe does or doesn't do when it comes to forecasts and outlooks.
Just click on the google play button or the apple store button on the sidebar for my app which is on My Weather Concierge. Download the app for free. Subscribe to my forecasts on an ad free environment for just 99 cents a month.
Get my forecasts in the palm of your hand for less than the cost of a cup of Joe!
MENTION JOE CIOFFI AND GET A 5% DISCOUNT