SHOTS OF COOL AIR AHEAD LONG RANGE
SHOTS OF COOL AIR AHEAD LONG RANGE
JOESTRADAMUS has a fondness for this time of year when we begin to see intrusions of cooler air masses from Canada. The upper air pattern all summer has featured a rather active jet stream across Southern Canada bringing weather fronts through from time to time and preventing long lasting heatwaves from settling in the Eastern US. Now that active jet begins to bring down larger and longer lasting shots of refreshing Canadian air with the arrival scheduled for Wednesday night of this coming week. Before the front gets here the next 3 days will be very warm to hot with some sunshine each day and highs in the mid 80s to near 90. Wednesday brings the chance of thunderstorms before the cold front moves through and then the cooler air arrives behind it.
UPPER AIR PATTERN THURSDAY AUGUST 24, 2017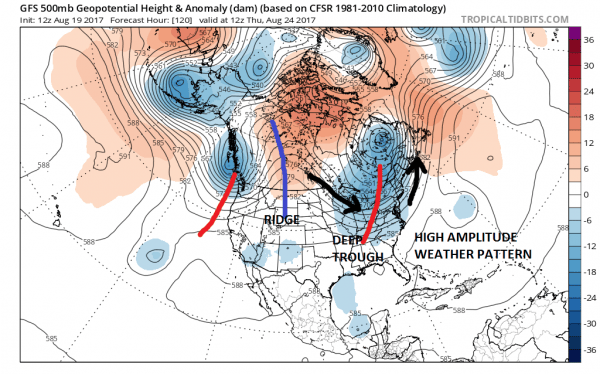 The upper air pattern is basically getting stretched with deep troughs in the east and off the west coast with a strong ridge in Western Canada. This brings strong upper air westerlies down almost to Northern Florida. This will bring down a nice big high out of Canada and it will settle into the east with a northeast flow of cool air. We could see nights down in the 50s in many areas and daytime highs will be in the pleasant 70s with low humidity.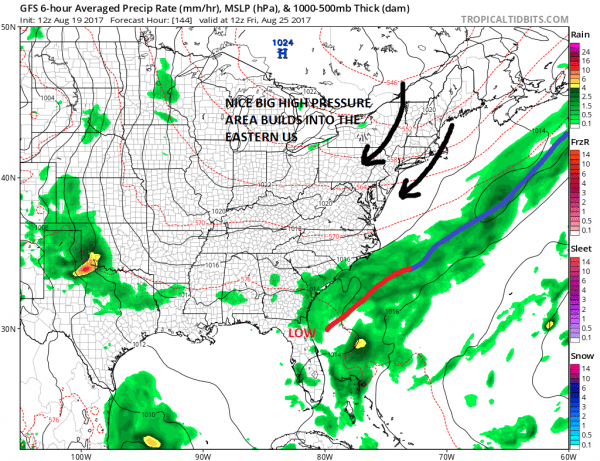 All the weather models linger the trough in the east for quite awhile which means that the cooler weather that arrives on Thursday could last right through next weekend and into at least the first part of the following week. Eventually the onshore flow could become problematic with clouds and along the coast the prolonged onshore flow could result in clouds and some ocean issues developing. The moon phase will be in the last quarter so tidal issues will be lower than the otherwise would be. One of the questions here is whether some sort of frontal wave may eventually develop in a pattern like this. Of course the tropics may or may not be a player as near the end of the month. Weather models don't seem to be very bullish on tropical development except for the almost useless Canadian model which basically wipes out the East at least once every model run!
Here is JOESTRADAMUS's view on Monday's solar eclipse and the prospects for cloud cover.
MANY THANKS TO TROPICAL TIDBITS FOR THE WONDERFUL USE OF THE MAPS
GET JOE A CIGAR IF YOU LIKE!
FiOS1 News Weather Forecast For Long Island
FiOS1 News Weather Forecast For New Jersey
FiOS1 News Weather Forecast For Hudson Valley
NATIONAL WEATHER SERVICE SNOW FORECASTS
LATEST JOESTRADAMUS ON THE LONG RANGE
Weather App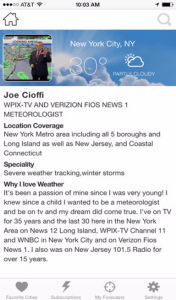 Don't be without Meteorologist Joe Cioffi's weather app. It is really a meteorologist app because you get my forecasts and my analysis and not some automated computer generated forecast based on the GFS model. This is why your app forecast changes every 6 hours. It is model driven with no human input at all. It gives you an icon, a temperature and no insight whatsoever.
It is a complete weather app to suit your forecast needs. All the weather information you need is right on your phone. Android or I-phone, use it to keep track of all the latest weather information and forecasts. This weather app is also free of advertising so you don't have to worry about security issues with your device. An accurate forecast and no worries that your device is being compromised.
Use it in conjunction with my website and my facebook and twitter and you have complete weather coverage of all the latest weather and the long range outlook. The website has been redone and upgraded. Its easy to use and everything is archived so you can see how well Joe does or doesn't do when it comes to forecasts and outlooks.
Just click on the google play button or the apple store button on the sidebar for my app which is on My Weather Concierge. Download the app for free. Subscribe to my forecasts on an ad free environment for just 99 cents a month.
Get my forecasts in the palm of your hand for less than the cost of a cup of Joe!