Shocking Cold & Ice For Interior Northeast Next Week
With the prospect of 70s on Christmas Eve and a still warm Christmas Day it is hard to imagine that Monday we will see temperatures in the 30s all day and 20s in northern areas north of New York City and Northeastern Pennsylvania northward. But that is exactly where we will be heading. Sunday it will be in the 60s and by Monday temperatures will be at unusual (for this month) winter cold levels. This could be setting up for a snow & ice event for the interior northeast Monday night and Tuesday. The shock of cold and ice after seeing 70s is going to be a big deal.
From earlier today we examined the GFS and determined that the model was overreaching on a number of levels. For starters it was based on the notion that the big cold Canadian high was going to hold its ground. The European model has consistently not agreed with this idea by taking the high rapidly across New England and offshore. This is indeed going to be the case. This would mean that for the coast it is a cold rain that is in store.
The above map is from earlier today for Monday evening where the high is pressing in from the north. You can see the differences here in the new overnight run and the models late this afternoon switched to this idea which really makes the most sense. The low is further south but the more important high is much further southeast as it is is racing to the coast. This means that it will be colder on Monday but also drier. You can't have it both ways. Without the high holding to the north the cold air at the coast will be in briefly and not long enough so that when precipitation arrives it will be rain. 
Inland it will be a different story initially as it might be cold enough for sleet and a little snow at the start. Further north there could be a prolonged period of snow to ice before a change to rain takes place. For winter weather lovers at least seeing something that resembles the season is welcome. Still from 70 to 30 is going to be quite noticeable. The shock of cold and ice will really set in for northern areas as the low moves toward Detroit or Cleveland and eventually redevelop off Southern New England.
One other positive from the standpoint of the drought is the continued trend of increasing rain events that will continue to make a dent in the rainfall deficit. Models are suggesting another wave and more rain later next week. The other take away from this is the grinding process that is pattern change. We are in the process of changing and will continue to watch those developments daily. Here is my latest overnight weather video of the long range
LATEST JOESTRADAMUS ON THE LONG RANGE
Weather App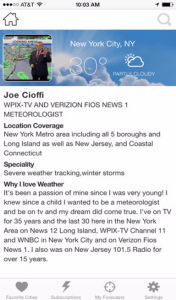 Winter is coming. Don't be without Meteorologist Joe Cioffi's weather app. It is a complete weather app to suit your forecast needs. All the weather information you need is right on your phone. Android or I-phone, use it to keep track of all the latest weather information and forecasts. This weather app is also free of advertising so you don't have to worry about security issues with your device. An accurate forecast and no worries that your device is being compromised.
Use it in conjunction with my website and my facebook and twitterand you have complete weather coverage of all the latest weather and the long range outlook.  The website has been redone and upgraded. Its easy to use and everything is archived so you can see how well Joe does or doesn't do when it comes to forecasts and outlooks.
Just click on the google play button or the apple store button on the sidebar for my app which is onMy Weather Concierge. Download the app for free. Subscribe to my forecasts on an ad free environment for just 99 cents a month.
Get my forecasts in the palm of your hand for less than the cost of a cup of Joe!