Severe Weather Update & Tropical Disturbance Statement
Severe Weather Update & Tropical Disturbance Statement
We still have our eyes on the potential for severe weather late this afternoon and tonight over parts of the area. Clouds have been rather stubborn into this afternoon and that has kept temperatures in 70s north of Route 195 in New Jersey and across Northeastern Pennsylvania eastward to the Hudson Valley, Connecticut & Long Island. South of 195 in New Jersey temperatures are in the mid to upper 80s where sunshine has been more prevalent. So far at least no severe thunderstorm watches have been issued.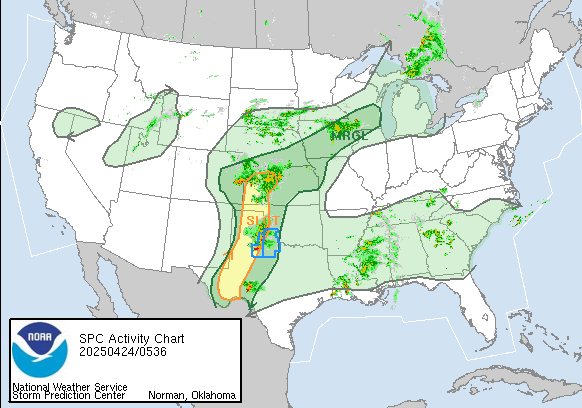 One severe thunderstorm watch has been issued as of 2pm over Northern Ohio & Northwestern Pennsylvania. Other watches may follow across upstate NY where an enhanced risk of severe weather is being indicated by the Storm Prediction Center.

A bit of shower activity is firing up across Pennsylvania on the regional radar but the area is small so far. Elsewhere there are some scattered showers running around to the east.
On another matter we have a tropical disturbance statement that has been issued by the National Hurricane Center. A large area of clouds and showers are showing up on the satellite this afternoon east of the Bahamas. This is associated with a weak surface low combined with an upper air trough over the area.
The time of year argues strongly against development here. Upper air conditions are not favorable for development and the system will likely get swept north and northeastward over the weekend with no impact on the East Coast. Here is the statement from the National Hurricane Center.
A large area of showers and thunderstorms near the Bahamas is
associated with an upper-level low pressure system and a surface
trough.  The system is forecast to move westward over the Florida
peninsula on Saturday with no significant development.  Locally
heavy rains and gusty winds are possible over portions of the
Bahamas and southern Florida through this weekend.  Please monitor
products from your local weather office for more details.  No
additional Special Outlooks on this system will be issued unless
conditions warrant.
* Formation chance through 48 hours...low...near 0 percent.
* Formation chance through 5 days...low...near 0 percent.

FiOS1 News Weather Forecast For Long Island
FiOS1 News Weather Forecast For New Jersey
FiOS1 News Weather Forecast For Hudson Valley
LATEST JOESTRADAMUS ON THE LONG RANGE