Severe Weather Tornado Flash Flood Risk
Tropical Humidity Returns Through the Weekend
Severe Weather Flash Flood Risk
Tropical Humidity Returns Through the Weekend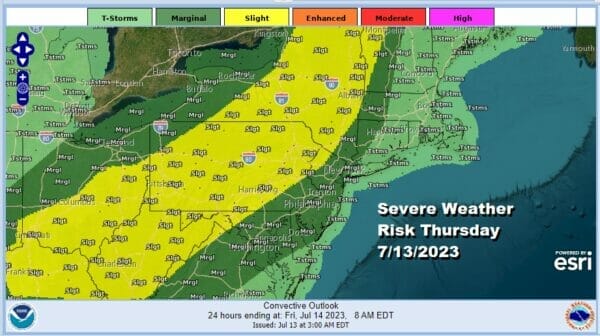 The return of tropical air and dew points going above 70 will be a thorn in everyone's side through the weekend. It will not only make things very uncomfortable but with all that juice in the atmosphere we will likely see some thunderstorms running around and the risks for heavy rain and localized flash flooding. It begins today with the Storm Prediction Center showing a rather large area of marginal ( 5 to 15% chance) to slight risk (15 to 30%) chance for severe thunderstorms. We also have slightly elevated tornado risk today of 2 to 5 percent mostly well inland in the slight risk zone. Much of that area is under a marginal to slight risk for flash flooding and we have a moderate risk for parts of Northern New England.
We can begin to see the parade of weather systems that will be moving from west to east. The first one this morning is passing well to the north across Southeastern Canada  and a warm front has moved northward as well bringing dew points up to unreasonable levels sunshine will take highs into the 90s to day away from the ocean and then late this afternoon we see some thunderstorms that will develop in the severe weather risk zone.
Most of the thunderstorm development today will be inland during this afternoon and evening. Along the coast we stand a higher chance for seeing some thunderstorms move through overnight. Gusty winds and heavy rain are the largest risks from any severe weather that develops. The saturated ground means the threshold for flash flooding is not all that high.
SATELLITE WITH LIGHTNING STRIKES

WEATHER RADAR

Warm humid conditions overnight will leave us with temperatures in the upper 60s to middle 70s. Friday we will likely see another risk for showers, thunderstorms, severe weather and flash flooding as a weather front nears the coast and then likely stalls out. There will be more clouds around Friday but some sun will be in the mix. Also we will have a south wind and that will keep temperatures a little lower but highs will still reach the mid to upper 80s in most places.
We will see showers and thunderstorms riunning around Friday and there is severe weather risk. The Storm Prediction Center has a marginal risk for severe weather indicated from Central New England southward to Northeastern North Carolina. Much of this area also is under a slight risk for flash flooding.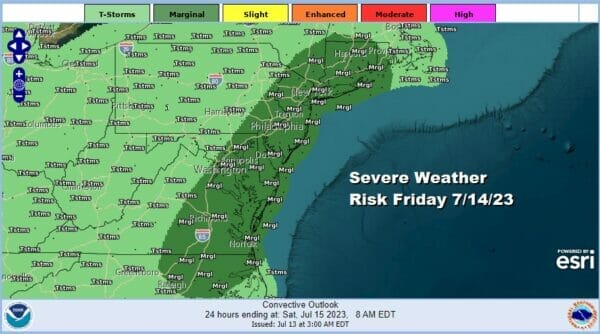 Now on to the weekend as the parade of weather systems continues through the weekend. Of the next 4 days, Saturday probably is the day where severe weather and thunderstorm risk is lower but not zero. There will be enough of sun to take highs to the mid 80s to near 90 degrees. Humidity levels will be high.

Saturday night and Sunday we will see a stronger cold front swing eastward and this has more moisture and more punch to it. We see a higher chance for showers, thunderstorms, severe weather and flash flood potential. The European model loop for the next 5 days shows the Sunday system to be potentially problematic for heavy rain though this time it may be more to east in New England rather than to the north.
As far as rainfall is concerned over the next 4 days the forecast is for a wide range of rain fall amounts of 1 to 3 inches from the Northern Mid Atlantic through New England however in the summer time we could see local amounts double that forecast given the convective nature of the rainfall so bear this in mind that there could be amounts higher than the 1 to 3 inch range that is being indicated.
More clouds and more widespread showers Sunday will probably keep temperatures lower with highs in the low to middle 80s though while its raining temperatures will settle into the 70s. The parade of weather systems continues next week though we may see a break Monday. Showers and thundertorms will be at risk for later Tuesday and we probably should keep tabs on a system for late next week that looks to be on the vigorous side.
MANY THANKS TO TROPICAL TIDBITS FOR THE USE OF MAPS
Please note that with regards to any severe weather,  tropical storms, or hurricanes, should a storm be threatening, please consult your local National Weather Service office or your local government officials about what action you should be taking to protect life and property.
(Amazon is an affilate of Meteorologist Joe Cioffi & earns commissions on sales.)