Severe Weather Threat Late Tuesday Cold Front Approaches
Severe Weather Threat Late Tuesday Cold Front Approaches
We are setting up for a severe weather threat for late Tuesday into Tuesday night as the next warm front cold front combination plays through. Severe Weather tonight was over the Middle Atlantic States with numerous severe thunderstorm warnings and flash flood warnings issued. We are still seeing it on the satellite picture tonight with that huge bright white blotch of clouds sitting over the Middle Atlantic.
EASTERN SATELLITE

REGIONAL RADAR

The regional radar still shows the line of severe thunderstorms moving southeastward into Southeastern Virginia with many areas getting clobbered. We will see this area wind down a bit and shift to the east overnight and offshore.
LOCAL RADAR NEW YORK CITY
LOCAL RADAR PHILADELPHIA

The key to the extent of the severe weather will be whether the marine layer gets dislodged and it seems that it should get out this time around. This sets us up for a potential squall line of thunderstorms tomorrow evening.
NAM MODEL FORECAST TUESDAY MAY 15, 2018 8PM
The NAM model shows the line quite strong as it nears the coast and holds it together including for coastal areas. The HRRR model did a good job with Monday's thunderstorms so we will watch that closely on Tuesday since it has been doing well lately. The NAM model did not do well with today's storms showing very little activity in the Middle Atlantic States.
TUESDAY'S FORECAST HIGH TEMPERATURES
Tuesday will be very warm and humid with highs in the 80s over most areas except the immediate shore. Cooler air follows Wednesday and then we look south as moisture with low pressure in the Eastern Gulf of Mexico begins to head up the coast late this week.
UPPER AIR JET STREAM FORECAST SATURDAY MAY 19, 2018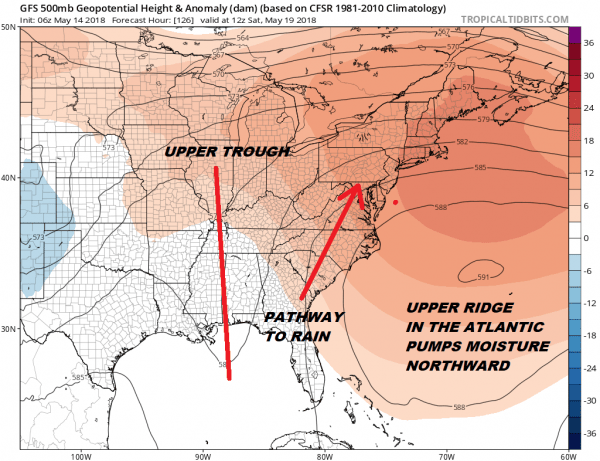 The upper high off the East Coast is offshore and with a trough to the west in the Central Gulf States, tropical moisture will have an open path into the Northeast late this week and into the weekend which means more rain is in the forecast long range.
With regards to the system in the Northeast Gulf of Mexico, the National Hurricane Center continues to monitor this for signs of development and JOESTRADAMUS has more on this.

GET JOE A CIGAR IF YOU LIKE 
FiOS1 News Weather Forecast For Long Island
FiOS1 News Weather Forecast For New Jersey
FiOS1 News Weather Forecast For Hudson Valley
LATEST JOESTRADAMUS ON THE LONG RANGE