HUMID THUNDERSTORM SEVERE THREAT LATE DAY & EVENING
FRONT STALLS WAVE MOVES NORTHEAST THURSDAY NIGHT FRIDAY
WEEKEND LOOKS DRY SUNSHINE
The flooding rains of yesterday are long gone but now we wait for the cold front tha this going to move through tonight. Ahead of it there will be some thunderstorms and there is the possibility of some of the storms being severe. However this is all going to be dependent on daytime heating and how much cloud cover hangs on today. There is a bit of a marine layer hanging on along the coast so that will play a role. Weather models all handle it differently with the HRRR being the most aggressive with a line of storms moving through this evening.
The Storm Prediction Center has scaled back their risk zone for today pulling it back from the coast and lowering it to marginal risk there. They also lowered the risk on the southern flank. At least any thunderstorms should move along from west to east. The ground is saturated so a strong cell could make for fast flash flooding in areas in Northern New Jersey to Southern New England where some areas are still soaking in a half a foot of rain.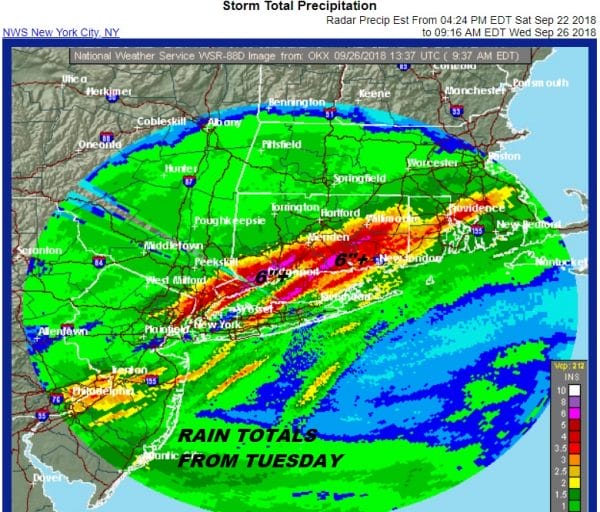 There are a lot of clouds on the satellite loop  moving southwest to northeast. We are seeing the some showers and downpours in Western Pennsylvania on the regional radar but no line of storms has fired up as of the time of this post.
EASTERN SATELLITE

REGIONAL RADAR

Local radars are quiet this morning which is a good thing so we have time. I don't expect much here to pop up through at least mid afternoon. Thunderstorms from the front should come into range around 4-5pm but they should steer clear of the evening commute.
LOCAL RADAR NEW YORK CITY
LOCAL RADAR PHILADELPHIA

Once this plays through the same issues remain for tomorrow and Friday. The front stalls out with a weak wave that develops on it. Thursday we should see a mix of sun and clouds but more clouds will move in during the afternoon and evening. We will see some showers late Thursday night into part of Friday as a wave goes by. Then finally high pressure builds in for the weekend.
This is really shaping up to be a nice weekend with sunshine  both Saturday and Sunday with autumn highs just into the 70s and dew points down in the 50s. Nights will be in the 40s inland with low to mid 50s warmer urban areas. After all the rain of this week, it will be well deserved.
SUBSCRIBE TO PATREON FOR A WEATHER EXPERIENCE FREE OF ADS, EXCLUSIVE VIDEOS FOR MEMBERS ONLY AND MUCH MORE…STARTS AT $2 A MONTH..MESSAGE ME AT ANY TIME

MANY THANKS TO

TROPICAL TIDBITS

FOR THE USE OF MAPS
Please note that with regards to any tropical storms or hurricanes, should a storm be threatening, please consult your local National Weather Service office or your local government officials about what action you should be taking to protect life and property.
LATEST JOESTRADAMUS ON THE LONG RANGE