Severe Weather Risks Tonight Into Thursday
Easter Weekend Dry Rain Sunday Night Monday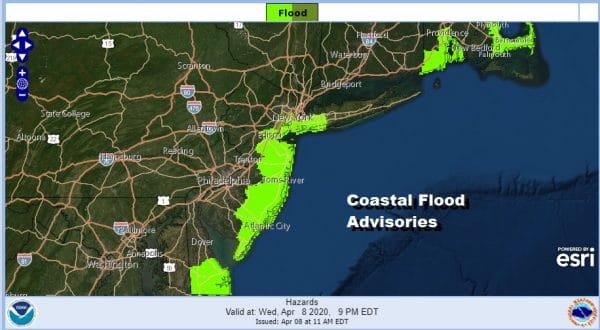 There are a few things going on this afternoon that we should make note of. First off due to the full moon last night tides will be running higher than normal over the next several days creating minor coastal flooding. Coastal Flood Advisories are posted for parts of the coastline from Delaware to Southeast New England.
Last night's severe weather has moved out but we have another cold front approaching for Thursday and as a result we have a large area of severe weather risk late today and especially overnight across the Middle Atlantic States and points westward. That risk area shifts northward and up the coast for Thursday as a cold front moves through early Thursday afternoon.
We are looking at a marginal risk fo severe weather for Southeastern Pennsylvania Maryland and Delaware northeast to New Jersey, Southern NY and Western Long Island. The risk area for Thursday includes all the major cities from Washington DC to Baltimore, Philadelphia, and New York City. We could see this area expanded some later today or tonight by the Storm Prediction Center.
SATELLITE

REGIONAL RADAR

Meanwhile we are struggling to see weather conditions improve in some areas this afternoon mainly from NYC north and east while areas south and west are getting into some sunshine. Radar activity is further south in Virginia and North Carolina where we could see some stronger thunderstorms develop. Temperatures this afternoon will be in a wide range from 50s north and east of NYC to 70s south and west of Philadelphia.
Tonight brings the next cold front and with that showers very late tonight into Thursday afternoon. There will be some thunderstorms in the mix and again we remind all of the risk of some stronger thunderstorms and the marginal risk for severe weather.
Temperatures Thursday will be in the 60s. Winds will increase sharply later Thursday and remain strong and gusty through Friday as a major storm develops in the Gulf of Maine. Friday will feature in and out sun and the chance for some rain and snow showers in upstate NY. Highs along the coastal plain will be just into the 50s with 40s inland and lows by Saturday morning will be in the upper 20s to middle 30s.
The Easter weekend will be dry and cold for Saturday and dry but not as cold Easter Sunday. Saturday we should see sunshine but highs just  into the 50s. It will still be on the breezy side Saturday at least for awhile before the winds ease later in the day. Sunday early sun will give way to increasing clouds with highs in the 60s. Then our attention turns west to a developing storm coming out of the Southern Plains and heading into the Eastern US. Heavy rain is likely Sunday night into Monday afternoon as one low heads up into Eastern Canada while the second low that develops near the coast heads for Cape Cod.
MANY THANKS TO TROPICAL TIDBITS FOR THE USE OF MAPS
Please note that with regards to any severe weather,  tropical storms, or hurricanes, should a storm be threatening, please consult your local National Weather Service office or your local government officials about what action you should be taking to protect life and property.