Severe Weather Risks Today & Wednesday
Lee Passes East & Brings In Nice Dry Weather Late Week & Weekend
Severe Weather Risks Today & Wednesday
Lee Passes East & Brings In Nice Dry Weather Late Week & Weekend

A stalled frontal boundary remains along the coast today and we also have another cold front to the west that is moving eastward. Between those two systems we continue to sit in a warm and humid air mass and for the 6th day in a row we will be dealing with the chance for some downpours, thunderstorms, and the potential for severe weather. The Storm Prediction Center indicates a marginal risk for severe weather in the dark green area on the map above with general thunderstorms elsewhere.
Flash flooding is possible again in some of the heavier thunderstorms which could throw down a quick inch or two of rain on already saturated ground. Otherwise it is a day of changeable sky conditions with some breaks of sun which of course will trigger some downpour and thunderstorm development. Most highs will reach into the low and even a few middle 80s.
SATELLITE WITH LIGHTNING STRIKES

WEATHER RADAR

Thunderstorms this evening will tail off somewhat but then the second cold front will push eastward and that will set off showers and some thunderstorms for Wednesday. Isolated severe thunderstorms are being indicated by the Storm Prediction Center mainly in Southern New England and Long Island. We could see this area expanded a bit Wednesday.
Unlike the last weather front, this one will push through Wednesday and offshore Wednesday night. This is very important because the front will stall offshore and set up a pathway for Hurricane Lee. Lee is still moving west northwestward with 115 mph winds. The hurricane will track along the frontal boundary to the east and being far enough offshore, will keep Lee out to the east as it goes by late week.
There is still uncertaity about what impacts lee will have for Eastern New England. The GFS model has it tracking into the Gulf of Maine and turning into Nova Scotia/Bay of Fundy region. There are some outlier models including the European suggesting a track closer to Cape Cod and Coastal Eastern New England and bringing the western edge of rain to about NYC for a brief time Saturday morning.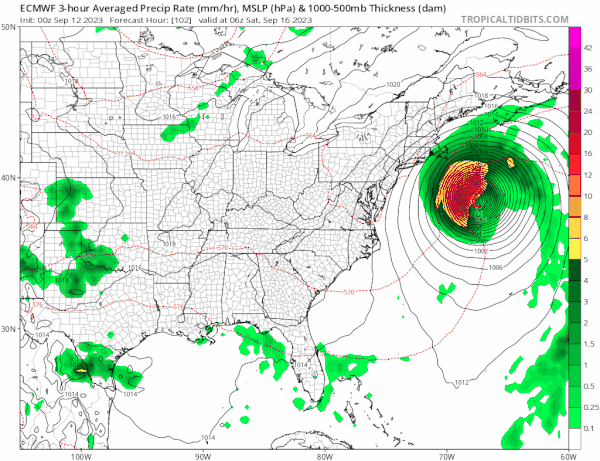 The track of Lee today and tomorrow will probably determine the small but important track differences. They will hinge on a turn to a more northerly track later Wednesday or early Thursday. The longer it takes to make that turn will mean a slightly more westward track. In either case if you are south and west of NYC and Long Island there are no issues and even if the European were correct it would probably be more of an issue for coastal Southern New England and Long Island, though the worst of it would be for areas from Southeastern Massachusetts and points northward. We will deal more with this later today as we get more data. In the meantime Wedesday, showers and thunderstorms will come to an end and highs Wednesday will be in the 70s
We see no issues Thursday and Friday. Drier air will come on northerly winds as high pressure builds into Upstate NY and New England. Sunshine will be back Thursday with lower humidity (finally), no rain, and highs reaching the low and middle 70s. Friday we will see sun and high clouds as we watch the progress of Lee moving up the coast. Highs again will be in the 70s. If Lee takes the more easterly track up the coast, then we will have a nice weekend though it will be breezy on Saturday with sunshine with highs in the 70s. Along the coast of Southern New England and Eastern Long Island it could actually be rather windy at times with northwest winds gusting to 30 mph or more. Tidal issues should be at a minimum with a track far offshore though we do have a new moon so some minor coastal flooding is possible Thursday and Friday in some places. We will continue to work out the details of the forecast in later posts as we work out the track and timing of Hurricane Lee. The worst of it will likely be for Eastern New England especially coastal Maine as well as Western Nova Scotia, where a direct pass of the center is likely to occur or at least be very close by.
MANY THANKS TO TROPICAL TIDBITS FOR THE USE OF MAPS
Please note that with regards to any severe weather,  tropical storms, or hurricanes, should a storm be threatening, please consult your local National Weather Service office or your local government officials about what action you should be taking to protect life and property.
(Amazon is an affilate of Meteorologist Joe Cioffi & earns commissions on sales.)