Severe Weather Risks Today High Wind Watch New Jersey Eastern Pa South Friday

Weather in 5/Joe & Joe Weather Show Latest Podcast
Severe Weather Risks Today High Wind Watch New Jersey Eastern Pa South Friday
Today's forecast is going to be a challenge thanks to a weather front that will be lying west to east cutting our region from Eastern Pennsylvania in half at least initially. Low pressure is developing on that front to the west and that low heads into upstate NY later today and tonight. This will push the front northward and leaving much of the area (away from the coast) in the warm sector of the system and that means growing severe weather risks.
Also as we look ahead to later tonight and Friday this storm system moves to Eastern Canada and strengthens considerably leaving us in a very tight pressure gradient for late tonight and especially during the day Friday. Add to that a strong upper trough moving through and we have the potential for very strong winds gusting to 50 mph or higher.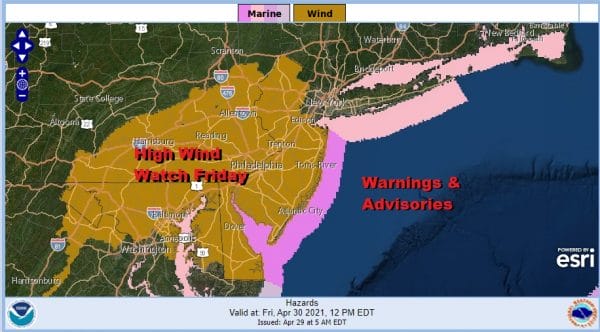 High wind watches are posted from Maryland and Delaware northeastward to just west of New York City which includes all of New Jersey except the northeast counties. Look for other NWS offices to follow here later today issuing either wind advisories or high wind warnings for areas from the northeast counties of New Jersey north and east into Upstate NY and New England.
SATELLITE

Meanwhile we have a lot of clouds around with showers and thunderstorms on the radar that will be an issue today. Temperatures today are a very tough call because of the front lying east west across Pennsylvania. Draw a line from about Allentown east and cut New Jersey roughly in half from north to south (Route 195) and you will see temperatures to the north generally in the upper 60s to some lower 70s for highs and to the south highs will reach into the 80s.
Late today the front moves northward and we see showers and thunderstorms this evening and tonight. Some of those could be severe. Then a cold  front passes and winds strengthen from the northwest with leftover clouds toward morning. Lows tonight will be in the mid 50s to near 60. Friday will be increasingly windy with clouds and some limited sunshine. A strong upper trough will move through Friday evening and that's when the strongest winds will occur.
Expect these wind gust forecasts to increase in the areas surrounding the area in red as these forecasts will be updated later today. Most areas will see gusts over 40 mph at times later Friday into Friday night. Areas in the high wind watch zone could see gusts over 50mph. Temperatures Friday will be mostly in the 60s. Saturday morning lows will be in the upper 30s to mid 40s.
The weekend has taken a bit of a turn. Saturday we will see winds ease with sunshine giving way to arriving clouds. Highs should reach into the 60s. A warm front goes by to the north and we will throw in the mention of a passing shower or two, mainly as you head north into Upstate NY. Sunday will be warmer but we have a cold front that will move through at some point Sunday afternoon. We aren't expecting much other than some clouds and the chance for a passing shower (small change). Highs Sunday will be back in the 70s. In spite of the shower mention, for most of you the weekend will be rain free. Low pressure heading to the Great Lakes and a warm front moving northward Monday will bring some rain or showers to the area. We will deal with that issue in the coming days.

MANY THANKS TO TROPICAL TIDBITS FOR THE USE OF MAPS
Please note that with regards to any severe weather,  tropical storms, or hurricanes, should a storm be threatening, please consult your local National Weather Service office or your local government officials about what action you should be taking to protect life and property.