Severe Weather Risks Today & Friday, Nice Dry Air Arrives Late Friday & Weekend
Severe Weather Risks Today & Friday, Nice Dry Air Arrives Late Friday & Weekend

We mentioned yesterday that we have some work to do regarding today and Friday as we have a stallked frontal boundary along the coast, a front coming in from the west, and warm humid air covering the coastal plain from Maine to the  Southeast Coast. All put together this leaves us at risk for severe weather this afternoon and evening from Northeastern Maryalnd, Northern Delaware, Eastgern Pennsylvania, New Jersey, and the Hudson Valley of NY State to the Catskills.
Friday we see the risk for severe weather shift eastward to Southern and Southeastern New England as well as Long Island. We are anticipating isolated severe thunderstorms both days. You can almost combine the two risk areas into one thanks to the timing of this cold front. We expect much of the activity for today, Thursday will be tonight into Friday morning while in Southern and Southeast New England it will likely be from the early morning hours Friday into Friday afternoon.
SATELLITE WITH LIGHTNING STRIKES

WEATHER RADAR

There isn't much happening on the satellite and radars today other than a fair amount of clouds. Look for scattered showers and thunderstorms to develop during the day. Im not particularly concerned about the activity as it will tend to be variable from place to place, and some areas will get not much at all. Temperatures today will be in the 80s.
The front will approach and move through Friday morning with some thunderstorms and then once the front passes weather conditions will improve as we move through the day Friday especially in the afternoon from west to east. Dew points will drop into the 50s and temperatures will be in the upper 70s and lower 80s. Once the risk for thunderstorms has passed, look for decreasing clouds from west to east.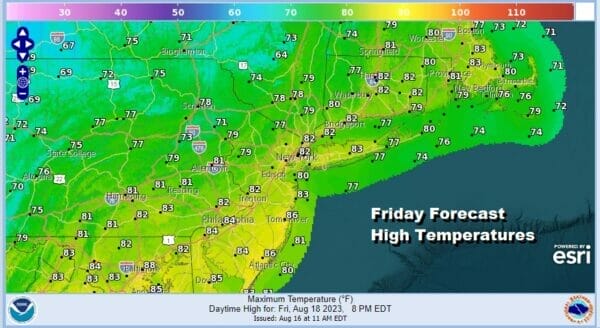 The weekend looks very good indeed with low humidity and sunshine for both Saturday and Sunday. There is an upper trough moving through Upstate NY and New England. That could throw in a few patchy clouds in the mix across Southeast NY and Southern New England but this is nothing more than a minor issue. Saturday highs will be in the pleasant upper 70s and lower 80s with very low humidity.
High pressure will settle over the Eastern US Saturday and then begin to move offshore Saturday night into Sunday. There is no mechanism to the west to drive a rapid rise in humidity so we will see dry conditions holding Sunday though temperatures will rise. It will be a sunny Sunday with highs in the mid to upper 80s. Dew points come up but the humidity will still be what i would regard as reasonable.
Monday will be a hot and more humid day with sunshine taking highs to the upper 80s and lower 90s at least. We do see a cold front arriving Tuesday with the chance for late day thunderstorms. Tuesday temperatures could be a touch lower with humidity higher until the front passes. We see highs in the 80s to near 90. Then another high pressure area and another break in humidity comes Tuesday night and Wednesday.
MANY THANKS TO TROPICAL TIDBITS FOR THE USE OF MAPS
Please note that with regards to any severe weather,  tropical storms, or hurricanes, should a storm be threatening, please consult your local National Weather Service office or your local government officials about what action you should be taking to protect life and property.
(Amazon is an affilate of Meteorologist Joe Cioffi & earns commissions on sales.)