Severe Weather Risks This Evening Cooler Air Arrives Tonight Into Tuesday

Weather in 5/Joe & Joe Weather Show Latest Podcast
Severe Weather Risks This Evening Cooler Air Arrives Tonight Into Tuesday
Today is the last day of summery weather over the area and it will also be the first important cold front to pass through here in nearly 2 weeks. The ridge in the Eastern US has broken down and a strong upper trough moving through Southeastern Canada will swing eastward. This opens the door for severe weather and the Storm Prediction Center has raised the risk zone to slight risk or a 15% chance of a severe thunderstorm with 25 miles of any point in the risk areas. Marginal risk carries a 5% risk.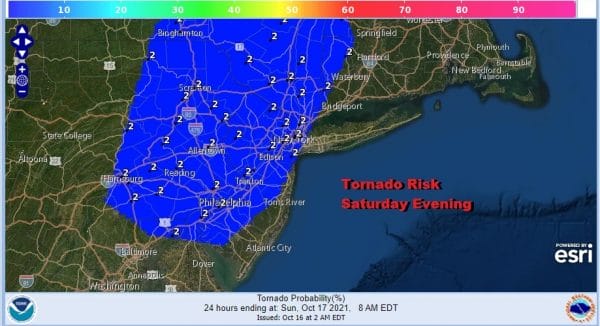 SPC has also added a 2 percent tornado risk within 25 miles of any point in the blue area though I do believe the main risk will be for strong gusty winds to 50 knots or more as the front passes. Nothing happens during the dayside. The primary time for thunderstorms will be after 5 or 6pm for most places. In the meantime we have sunshine and a warm southwest flow. It will be humid today with dew points reaching the mid 60s and temperatures will top out in the upper 70s to lower 80s.
SATELLITE

WEATHER RADAR

Radars remain quiet locally for now as all the action on the regional radar is in Western NY and Western Pennsylvania and it will take the entire day for those showers and thunderstorms to cross Pennsylvania. Weather models show a line of storms moving from west to east starting at 5pm in Eastern Pennsylvania and Western New Jersey and reaching the coast after 8pm.
Once the front passes we will see improving and cooler weather conditions develop overnight as the flow turns northwest and it becomes breezy. By morning as the dew points crash, temperatures will head to the upper 40s and lower 50s.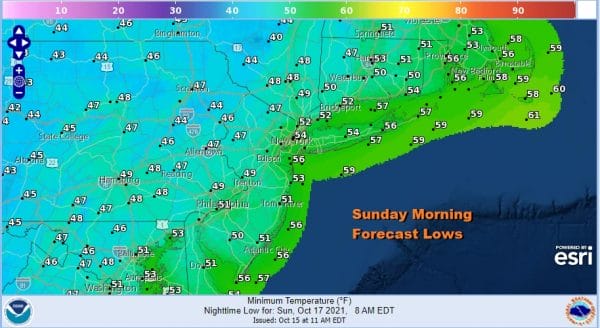 Finally some cool autumn weather arrives that will stick around for a few days. It will be breezy Sunday with a mix of sun and clouds. The unstable cold flow could trigger off a scattered shower mainly inland. Highs will be in the low to mid 60s. Then temperatures head lower Sunday night and by Monday morning, lows will be in the 40s except near 50 in warmer urban areas and along the coast.
Monday will be the coolest day we have seen here in quite some time. The northwest flow aloft and at the surface continues and it will be breezy. It will be another day of a mix of sun and clouds with just the outside chance for a passing brief shower. Highs will only be in the upper 50s and lower 60s.
Things begin to settle down on Tuesday as the northwest flow begins to relax a bit and high pressure heads for the Southeast US coast. We should see sunshine Tuesday with highs in the 60s. Wednesday brings lots of sunshine and highs will be in the upper 60s to lower 70s.
We should be dry this week as the next cold front approaches late Thursday and most of the moisture with that goes to our north. Weather models diverge a bit for next weekend with the GFS model showing the front stalling offshore and energy dropping from the Great Lakes causes a storm system (non tropical) to form right along the coast sometime next weekend. This storm will be followed by an even cooler air mass behind it. Other models emphasize the trough further north and that would mean another cold front followed by cooler air behind it. The blocky nature of the atmosphere would tend to favor a more dynamic outcome from this so we will be watching model developments closely in the coming days.

Please note that with regards to any severe weather,  tropical storms, or hurricanes, should a storm be threatening, please consult your local National Weather Service office or your local government officials about what action you should be taking to protect life and property.