Severe Weather Risks Inland Today High Humidity Hot Temperatures

Weather in 5/Joe & Joe Weather Show Latest Podcast
Severe Weather Risks Inland Today High Humidity Hot Temperatures
You are going to notice the big rise in humidity today as tropical air is surging northward. Some of that tropical air is coming from Tropical Storm Claudette which was upgraded this morning in Eastern North Carolina. The intact circulation stands out on this morning's satellite picture. Claudette is getting swept out to sea later today ahead of a strong cold front to the northwest. That front is going to produce a large area of severe weather risk later today and tonight.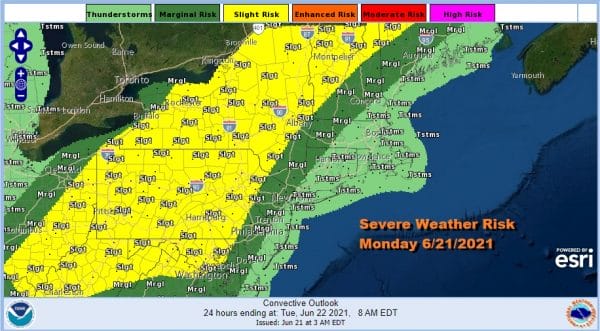 The Storm Prediction Center has left there forecast alone from overnight. Slight risk for severe weather is indicated from West Virginia northeast to Northern New England. This risk comes also with tornado risk of as high as 5 percent in Northeast NY and Northern New England to as far south as North Central and parts of Northeast Pennsylvania.
Dew points are rising rapidly as well as temperatures. The dew points will reach 65 to 70 this afternoon in the risk zone and temperatures across the area will reach the upper 80s to some lower 90s with ample daytime heating and high instability. The marginal risk reaches into New Jersey to just west of NYC southward through Western New Jersey down to Delaware.
SATELLITE

WEATHER RADAR
Look for radars to start getting busy and keep an eye on it during the day. Thunderstorms will develop early and then peak between 5 and 8pm. The best chances for timing will be this afternoon inland and then reaching Western New Jersey at 7 to 8pm. Storms will fall apart afterwards as they reach the coast around 9 or 10pm before they die out.

This cold front stalls out along the coast Tuesday and we will have to wait for another wave of low pressure to move northeast and kick the front offshore. The showers forecast for Tuesday will be more along coastal areas then inland but we will need to see where the front stalls. If it stalls a little further west we could see some showers in the afternoon west of the immediate coast but for now, inland areas will see leftover clouds with lowering humidity. The dry air should arrive along the coast during the evening hours and beyond.

Tuesday's highs will be in the 70s. We clear out Tuesday night. Wednesday and Thursday look for lots of sunshine, very low humidity both days. and highs will be in the pleasant 70s to around 80. These should be the two best weather days of the week. Friday with the high offshore we will have to watch and see whether some Atlantic moisture moves up from the south bringing clouds and maybe some shower risks later in the day but we will evaluate that possibility later today.

Please note that with regards to any severe weather,  tropical storms, or hurricanes, should a storm be threatening, please consult your local National Weather Service office or your local government officials about what action you should be taking to protect life and property.