Severe Weather Risks Including Tornado Risk
Southern New England to Delmarva and Northern Virginia From Ida

Weather in 5/Joe & Joe Weather Show Latest Podcast
Severe Weather Risks Including Tornado Risk
Southern New England to Delmarva and Northern Virginia From Ida
Weather conditions are still calm as we finish off a warm day. Clouds have been around for most of the day and they will be increasing this evening and tonight. Regional radar is showing some lead rain running out ahead of the main circulation of Ida which is still making its way into the Central Appalachians. Ida still maintains an impressive signature on the satellite as what is left of the core of this storm still holding on. To the northwest of Ida is an upper trough providing a little extra non tropical juice to all this.
SATELLITE

WEATHER RADAR

The Storm Prediction Center has raised the ante as far as severe weather risk is concerned for Wednesday. Marginal risk runs north into Southern New England. Slight risk reaches to route 195 in New Jersey. However they have added an enhanced risk for severe weather for the southern half of New Jersey to Southern Pennsylvania southward. Tornado risk ranges from 2% in the marginal risk areas to a rarely seen 10% risk for tornadoes in the enhanced risk zone.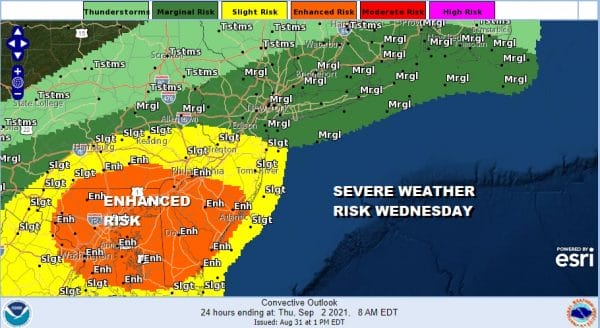 The risk for flash flooding north of the low track continues and the Weather Prediction Center has a moderate risk for flash flooding for much of the area from Eastern Pennsylvania to Southern New England. Rainfall amounts will be enhanced in any thunderstorms that join the mix.
Just to review. Rain will start to move in during the morning hours from west to east with the heaviest rains coming in mid to late afternoon from west to east and then coming to an end Thursday morning before daybreak. Weather conditions improve afterwards and we can look ahead to a nice cool dry end to the week and a lovely start to the Labor Day holiday weekend.

Please note that with regards to any severe weather,  tropical storms, or hurricanes, should a storm be threatening, please consult your local National Weather Service office or your local government officials about what action you should be taking to protect life and property.