Severe Weather Risks Frosts & Freezes A Late Week Warm Up & The Tropics
Front and center today is the next cold front that will be moving through this afternoon and evening. This is going to usher in another chilly air mass for Tuesday and Wednesday. We will have more on that shortly. In the meantime today some showers will be moving through and some scattered thunderstorms are possible especially from Central New Jersey northeast to New England. The Storm Prediction Center has labeled part of this area as marginal risk mainly northeast of NYC across Southern and Central New England. In between all this we will have clouds with some breaks of sun and highs reaching the 60s in many areas. Once the front passes another cold high builds in from Canada and skies clear out overnight.
This is going to be another night of frosts and freezes mostly away from warmer urban centers and coastal areas. The threat to the young growing season extends from Western New England south into the Carolinas. Temperatures are going to bottom in the 30s with cold spots approaching the critical 32 degree mark.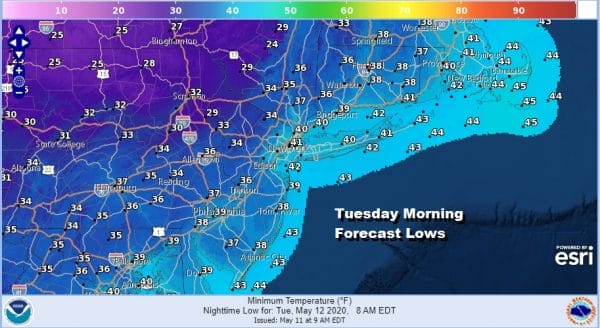 The satellite picture this morning shows the clouds with the next upper trough swinging across the Great Lakes and Northeast. There are some breaks in the cloud cover which should bring out some slivers of sunshine and temperatures into the 60s this afternoon.
SATELLITE

REGIONAL RADAR

Radars both on the regional and local are reflecting some of the bands of showers that are rotating through. Across Western Pennsylvania is the mechanism that could trigger off a few more showers and one or two thunderstorms this afternoon as the area heads into that severe risk zone depicted by the Storm Prediction Center.
LOCAL RADAR NEW YORK CITY
LOCAL RADAR PHILADELPHIA

We get through whatever showers today and the cold tonight and we move on to Tuesday which will be a dry breezy and cold day with some sunshine. Highs will be just in the 50s. We are setting up for the chilly weather pattern to relax as the week progress and that means temperatures will trend higher.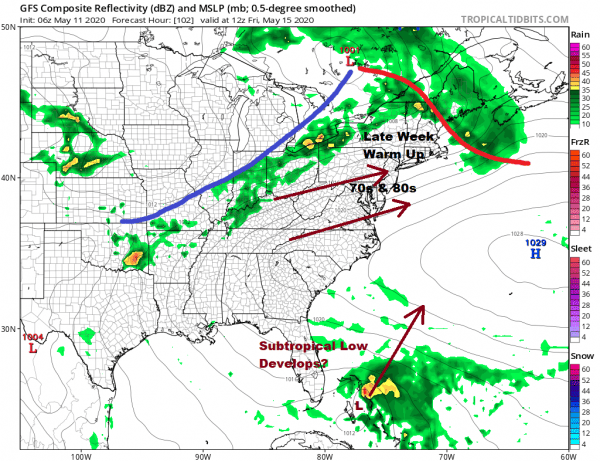 The upper air pattern that was bringing cold air from Northern Canada into the Eastern US is weakening and the next high will be moving off the mid Atlantic Coast beginning Thursday. This will set off a rather impressive warm up. We will see some sunshine Thursday with highs reaching the mid 60s to low 70s. Friday look for a very warm day with sunshine though there is the chance late showers or a thunderstorm. Highs Friday will reach the mid 70s to lower 80s!
Amidst all the chaos in the atmosphere is the building of strong upper high aloft off the East Coast and a disturbance under that upper high near Cuba and the Bahamas that will be heading northeast. This actually could develop into some sort of subtropical system this weekend well off the Southeast coast of the US.  We have seen named tropical storms in May over the last 5 or 6 years to if we do get one it would not be all that strange given recent history. We don't see a mechanism that bring anything up the east coast at the moment. We do see a warmer pattern overall developing for the second half of the month which is good news for warm weather lovers.
MANY THANKS TO TROPICAL TIDBITS FOR THE USE OF MAPS
Please note that with regards to any severe weather,  tropical storms, or hurricanes, should a storm be threatening, please consult your local National Weather Service office or your local government officials about what action you should be taking to protect life and property.