Severe Weather Risks Continue Monday & Tuesday But Much of the Time Rain Free
The long holiday weekend continues today and so does the risk for severe weather. We have seen areas of severe weather yesterday in the Eastern US and today' risk zone from the Storm Prediction Center covers many of the same areas from Southern New England to the Southeaster US. A slight risk is indicated meaning a 15 percent chance of a severe thunderstorm within 25 miles of any point.
As always with severe weather you can expect a severe thundertorm or two to spin up a tornado and tornado risk is slightly elevated from Virginia to New Jersey today into tonight. The satellite loop below shows clouds and the colored areas that are flashing indicated lighting strikes. Thunderstorms continue to be a risk that they could pop up anywhere at any time but it should be noted that much of the time for most of these areas at risk for thunderstorms it will be rainfree.
If you have outdoor plans today you will be dealing with high humidity and some heat as well. There should be enough sunshine in the mix to take high temperatures to the mid 80s to near 90 degrees which means that daytime heating will play a role in thunderstorm development.
SATELLITE

WEATHER RADAR

The radar structure of the echoes indicates that there are upper air disturbances that are moving along and triggering off the chance for thunderstorms. Late afternoon and evening carry the highest probability. Look for warm humid conditions tonight with the odd thunderstorm here and there. Lows will be in the upper 60s inland and low to mid 70s elsewhere.
Tuesday Independence day will be another very warm to hot day with high humidity. There will be some sunshine with highs in the mid 80s to around 90 degrees. The dew points will remain high, into the 70s, making for steamy conditions and there is a marginal risk for isolated severe thundertorms Tuesday afternoon and evening. Tuesday thunderstorms should be more of the hit or miss variety with more misses than hits.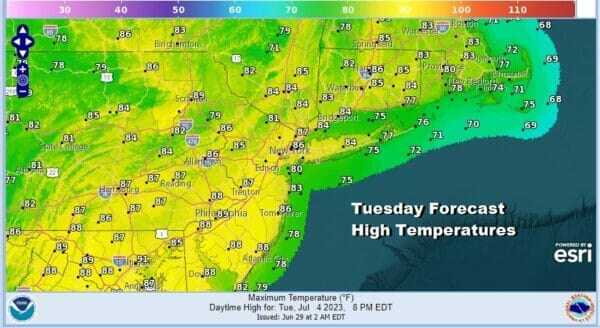 We should see thunderstorm risk decrease considerably Wednesday and Thursday as the atmosphere stabilizes somewhat. Both Wednesday and Thursday will be very warm to hot and humid days with sunshine taking highs to the mid 80s to near 90 degrees. Isolated hit or miss thunderstorms are possible on either day though for most folks it will be a miss.
Friday will be another very warm and very humid day with highs in the mid 80s to near 90 degrees. There is another cold front that will approach and that could set off some thunderstorms and possibly some severe weather risk. The front will likely linger along the coast over the weekend which will probably mean thunderstorm risk is likey to remain Saturday and Sunday though it should be emphasize that all day rains are rare occurrences during the summer months.
MANY THANKS TO TROPICAL TIDBITS FOR THE USE OF MAPS
Please note that with regards to any severe weather,  tropical storms, or hurricanes, should a storm be threatening, please consult your local National Weather Service office or your local government officials about what action you should be taking to protect life and property.
(Amazon is an affilate of Meteorologist Joe Cioffi & earns commissions on sales.)