Severe Weather Risk Weekend Humidity Soars Thunderstorms Late Today

Radical changes are underway this morning as a warm front is moving across Pennsylvania with some downpours and thunderstorms. Once this plays through you will feel a big difference outside as the humidity soars. This sets us up for severe weather risk late today as a cold front approaches along with a strong upper trough and short wave. The Storm Prediction Center has all of Pennsylvania to Southwest Connecticut under a slight risk of severe weather late today and that includes NYC and Philadelphia as well as the Hudson Valley, the Catskills, and the Poconos.
We like the way the HRRR handles this with the showers from the warm front moving to the east and weakening this morning followed by the idea of a several hours of daytime heating and then thunderstorms firing up late this afternoon and evening that could be strong or severe.
SATELLITE

REGIONAL RADAR

Regional and local radars are picking up on downpours in Eastern Pennsylvania moving eastward and they should play through from west to east in the hours between now and noon. Then we will watch for storms in the warm sector for this evening. Temperatures will reach the mid to upper 80s today and dew points will soar from the mid 50s this morning to near 70 late this afternoon making for a rather juicy atmosphere.
LOCAL RADAR NEW YORK CITY
LOCAL RADAR PHILADELPHIA

Once we play through today's thunderstorms it will remain warm and humid tonight with lows in the upper 60s to middle 70s by morning. Sunday we will see a very warm/hot and humid day with sunshine taking highs to the upper 80s and lower 90s. We will still be under the influence of a cold trough aloft creating unstable conditions and the Storm Prediction Center has all of the Northeast and Northern MId Atlantic states at a marginal risk for severe weather.
The week ahead will be dominated by a strong upper upper over New England that hangs around all week. This will create a situation where temperatures will be trending lower, mainly due to the tendency of a northeast wind developing as the weak wears on. That will knock the temperatures down a few notches.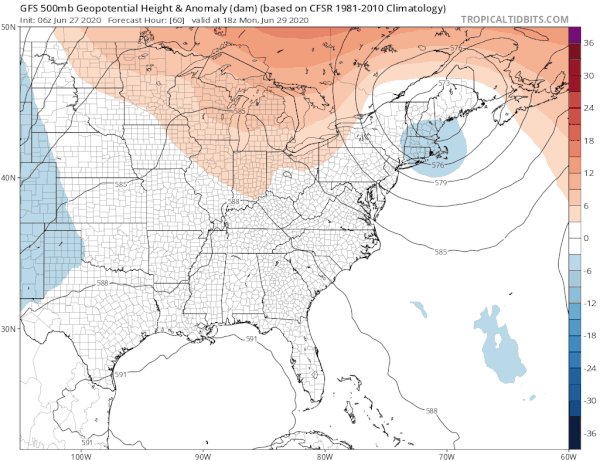 The one issue in my mind might be around Wednesday into Thursday as a little arm swings around the upper low and drops through New England. This will create some instability so we might see some scattered pop up showers or thunderstorms around midweek. Other than that much of the time next week will be no worse than partly sunny. Temperatures Monday will range between 85 and 90 and then edge a little lower; mid to upper 80s Tuesday, and low to mid 80s Wednesday and Thursday. Humidity levels will come down slightly through mid week and then likely rise again late week as the upper low pulls out to the east and very warm/hot humid air nudges eastward in time for the 4th of July holiday weekend. That begins with Friday the 3rd as the federal and state holiday. Much of the hot air will be suppressed south and we may see temperatures impacted by high pressure off the New England coast next weekend and a wind off the ocean. This won't keep the humidity down but it will keep temperatures from getting too high (mostly 80s). Right now we will argue against any kind of widespread rain though some models hint at shower issues next Sunday. For now we will go with a drier scenario for the holiday weekend.
MANY THANKS TO TROPICAL TIDBITS FOR THE USE OF MAPS
Please note that with regards to any severe weather,  tropical storms, or hurricanes, should a storm be threatening, please consult your local National Weather Service office or your local government officials about what action you should be taking to protect life and property.