Severe Weather Risk Wednesday New Week Starts Sunny
Overnight we saw humidity levels fall rather nicely which is creating a nice Monday and a nice start to the new week. Skies are clear across the Northeast though we do see clouds to the south across the Middle Atlantic states. We are likely to see some high clouds moving in from south to north during this afternoon to mask a bit of the sun away. High temperatures today will reach 80 to 85 in most places. Overall it is a good day with reasonable humidity holding all day long.
SATELLITE

REGIONAL RADAR

The radars will remain quiet today locally. To the south on the regional radar will are likely to see some rain developing off the Virginia coast in response to a wave on a stalled frontal boundary to our east. We are expecting this wave to move northeast and pass to our east during Tuesday. Our weather will feature clouds with some sunshine with temperatures in the 80s with the chance for a few pop up downpours or a thunderstorm.
Wednesday begins the next round of important changes with the first of two cold fronts headed our way. A strong upper trough and dew points rising into the lower 70s will set the table for a risk of thunderstorms late in the day as most weather models show. This also opens the door for severe weather in our view with a strong short wave swinging through in the upper flow.
The Storm Prediction Center has us starting out at a marginal risk for severe weather on Wednesday and I think we could see this area get beefed up a bit as we get once we get to Wednesday. Highs will be in the 80s to near 90 ahead of this first cold front.
There will be a second cold front that will be coming through late Thursday with sun and clouds Thursday and the chance for a shower. Highs will be in the 80s. That front won't have much with it but behind it will be a solid shot of cooler drier air that will build in for Friday and that dry air mass will likely hang around through the weekend and into next week.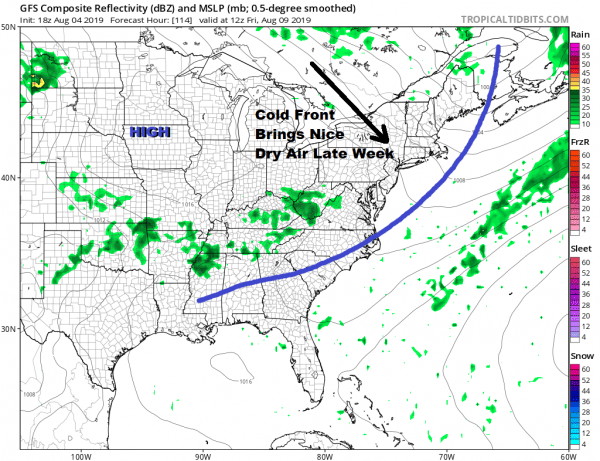 We could be looking at a couple of days with below average temperatures with highs in the upper 70s to lower 80s beginning on Friday and lasting through the weekend. The weather looks to by dry Friday through at least Sunday.
MANY THANKS TO

TROPICAL TIDBITS

FOR THE USE OF MAPS
Please note that with regards to any tropical storms or hurricanes, should a storm be threatening, please consult your local National Weather Service office or your local government officials about what action you should be taking to protect life and property.