Severe Weather Risk Tuesday Next Cold Front Approaches
Our spectacular weekend of sunshine and low humidity is coming to an end though we are still holding to the dry air mass for tonight and for at least part of Monday. The satellite picture this evening is mostly clear. There were some high clouds that came in late in the afternoon but they have moved out now. It will be another nice cool night with most inland lows in the 50s with low to mid 60s in the warmer urban centers and along the coast (except for cold spots). Radars both regional and local are nice and quiet from North Carolina to Maine.
SATELLITE

REGIONAL RADAR

Monday we will start with sunshine and dry conditions but as the day wears on the humidity will start to climb. Also some high clouds will arrive later in the day as warm front begins to approach. Temperatures will rise too with highs mostly in the 80s with some places from Southeastern Pennsylvania and Southern New Jersey southward reaching the upper 80s.
Tuesday is another set up for severe weather and the Storm Prediction Center has recognized this earlier indicating a large risk for slight risk of severe weather (scattered severe thunderstorms) with marginal risk to NYC, Northern New Jersey and Long Island. It will depend on how far north the warm front gets Tuesday morning. Ahead of it some places could see an early shower or thunderstorm. Then it will be very warm to borderline hot and significantly humid with highs in the mid 80s to near 90 south of warm front and upper 70s to near 80 north of it. In that warm sector look for strong thunderstorms to develop in the late afternoon and evening. There will be some clusters of thunderstorms along with a main line of storms that will move through. This time around the greatest risk will be as you go south of NYC and less as you go north.
This front will move through and drop southward into the Carolinas before stalling and high pressure will build from the Great Lakes to New England. Wednesday may be a bit of a transition day with leftover clouds giving way to some sun. Highs will be in the low to mid 80s. Thursday and Friday look like they could be two decent days with some sun, reasonable humidity, a northeast wind. and temperatures in the range of about 80 to 85.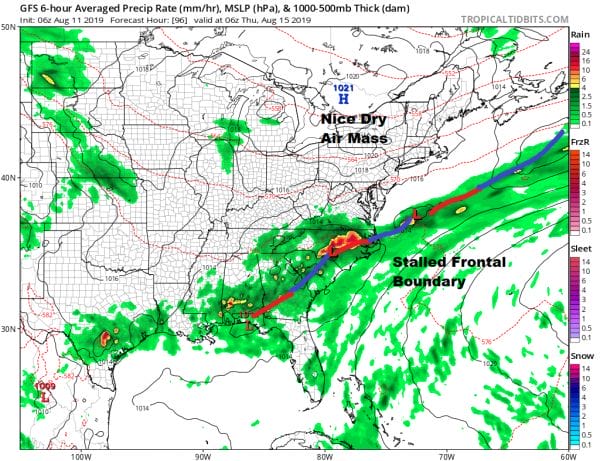 From that frontal boundary to the south a wave developing on it will force it offshore late this week. This could open the door to the possibility of something tropical developing off the Southeast coast next weekend but right now that sits in the category of a long shot. Weather models have been going back and forth on this. We are likely to see that continue on and off all week long so we will just sit back and watch how things progress.
MANY THANKS TO

TROPICAL TIDBITS

FOR THE USE OF MAPS
Please note that with regards to any tropical storms or hurricanes, should a storm be threatening, please consult your local National Weather Service office or your local government officials about what action you should be taking to protect life and property.