Severe Weather Risk Thursday Friday,
Lee to Become A Major Hurricane, Heatwave Continues
Severe Weather Risk Thursday Friday,
Lee to Become A Major Hurricane, Heatwave Continues

We are juggling a lot of different weather items today so let's begin with the heatwave in the Eastern US. Some areas are about to see their 4th consecutive day of highs in the 90s and once again there could be a few high temperature records challenged. Humidity is high, shower and thunderstorm probability is very low if not zero. High this afternoon with sunshine will be in the low to middle 90s.
The humidity makes it extremely uncomfortable. We do have heat advisories posted for much of the area from Eastern Pennsylvania to Southern New England today and that likely continues Thursday. Radars are nice and quiet across the Northeast and Mid Atlantic states thanks to the hot stable air mass overhead.
SATELLITE WITH LIGHTNING STRIKES

WEATHER RADAR

Another very warm and humid night lies ahead with patchy fog developing and most lows in the ridiculously warm upper 60s to mid 70s. Thursday will be a hot humid day with near record highs possible again. Highs will be in the low to middle 90s in most places and there might be a few upper 90s in the mix.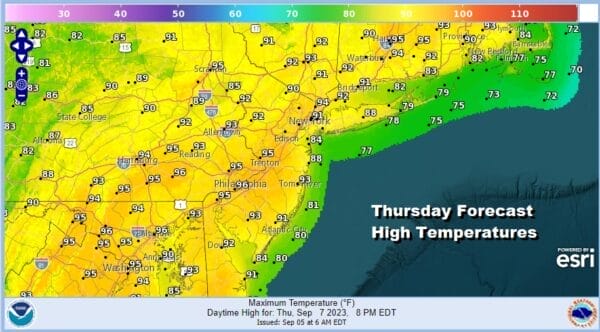 We do have a cold front and an upper trough that will be swinging eastward from the Great Lakes and Ohio Valley. The problem is that the upper trough doesn't move eastward but instead gets hung up in the Eastern Great Lakes to the Ohio Valley. This will bring the front to a grinding halt as it reaches the East Coast Thursday night.
The atmosphere becomes increasingly unstable later Thursday into Thursday night so showers and thunderstorms that develop have shot at getting strong or even severe. The Storm Prediction Center is indicating a marginal risk for isolated severe thunderstorms late Thursday and Thursday night for most areas inland.
The stalled front will probably be lined up north south in Central Pennsylvania south into the Central Appalachians which leaves Eastern Pennsylvania to Southern New England in very humid conditions with very warm to hot temperatures from north to south. Some areas will break 90 degrees again for the 5th or 6th day in a row. Late in the day we could see thunderstorms again and the Storm Prediction Center is again indicating severe weather risk for Friday.
Friday will be the last day of 90s degree high temperatures as the cold front edges closer to the coast. This will likely mean more clouds both Saturday and Sunday and also the risks for showers and thunderstorms running around. They could be a bit more numerous late Sunday afternoon and evening. Highs both days will be in the 80s.
Next week attention will likely be focused on a stalled cold front along the East Coast and Major Hurricane Lee which is likely to reach category 4 status at some point over the weekend. Right now models seem to be at odds with how to handle the upper features to the west. There will be a trough from th Great Lakes to the Ohio Valley which will turn Lee northward but when and where the turn northward takes place is still in question. Right now most of the model ensemble members as well as the operational weather models keep LEE offhore passing between North Carolina and Bermuda and then turning northeast passing southeast of Cape Cod and Eastern New England. For now we will sit back and watch the evolution of the upper air pattern in the  Eastern US as the issue with what will be Major Hurricane Lee is still well over a week away.
MANY THANKS TO TROPICAL TIDBITS FOR THE USE OF MAPS
Please note that with regards to any severe weather,  tropical storms, or hurricanes, should a storm be threatening, please consult your local National Weather Service office or your local government officials about what action you should be taking to protect life and property.
(Amazon is an affilate of Meteorologist Joe Cioffi & earns commissions on sales.)