Severe Weather Risk This Afternoon Evening Very Cold Windy Thursday

Weather in 5/Joe & Joe Weather Show Latest Podcast
Severe Weather Risk This Afternoon Evening Very Cold Windy Thursday
We are at risk for severe weather today and the Storm Prediction Center has expanded the risk adding a slight risk zone to the area from Northeastern North Carolina northward. The northern extent has been pushed northward to Upstate NY and Western and Southern New England and Long Island.
The extent of the severe weather will hinge on the how unstable the atmosphere gets today. Daytime heating is key and we will have that into this afternoon with some sunshine helping to boost temperatures. However the wind direction holds the key here for eastern areas of the risk zone. How much marine influence will impact the strength of thunderstorm causing them to weaken for areas close to and long the coast. In the other direction is the robust upper trough that will help enhance thunderstorm development.
SATELLITE

Not much happens until this afternoon as the radars are quiet this morning. Thunderstorms will develop to the west in Pennsylvania this afternoon and they will move west to east reaching Western New Jersey between 2 and 3pm and NYC around 4pm. Areas to the east will see the showers and thunderstorms move through after 4pm.
NAM MODEL 3PM EDT
NAM MODEL 5PM EDT

We will be watching the radar developments throughout the day. Next will be cold air that comes in tonight behind the developing storm in Upstate NY that moves to Northern New England and Eastern Canada Thursday. This will bring in very cold air (for this time of year) overnight. Some areas are under a freeze warning overnight into Thursday morning.
Many areas just inland of the coast will be under 30 degrees with numerous lows in the 20s north and west of the big cities along I-95. Add to that a strong gusty wind that develops overnight and we will see wind gusts of 20 to 35 mph throughout the day Thursday.
Thursday will be a windy cold day with some sunshine and clouds. Highs will only be in the upper 40s to lower 50s. Then we should see another cold night though temperatures will be a few degrees higher and with the wind continuing there will not be a frost. Lows will be mostly in the 30s. Friday will still be on the breezy side with some sun and clouds. Highs should make it to the upper 50s and lower 60s.
GFS MODEL SATURDAY 8PM
The next storm system heads our way Saturday and it is looking like it will move in a little faster which means it moves out a little faster. Sunshine will give way to arriving clouds with rain spreading from south to north late Saturday afternoon across Southern Pennsylvania and Southern New Jersey, and then reaching Southern New England late evening. Rain will last into Sunday morning and the end from southwest to northeast during the morning and into early afternoon.
GFS MODEL 2PM SUNDAY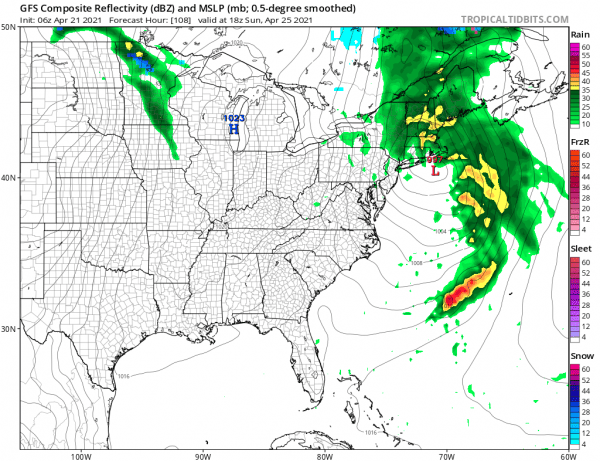 After this storm goes by we look ahead to next week which could be dry for much of the week. Low pressure to the east will be acting as a block keeping systems from the west from moving eastward. Temperatures will be impacted by wind direction each day and we will have to watch for a wind from the east which will keep temperatures lower especially along the coast.

MANY THANKS TO TROPICAL TIDBITS FOR THE USE OF MAPS
Please note that with regards to any severe weather,  tropical storms, or hurricanes, should a storm be threatening, please consult your local National Weather Service office or your local government officials about what action you should be taking to protect life and property.