Severe Weather Risk Saturday Heat Humidity Return This Weekend

We have the Storm Prediction Center's early look at Saturday across the Northeast and we have a large area of severe weather risk indicated from Ohio  northeast to New England. Slight risk is indicated from Southeast Ohio east across Pennsylvania, Northern New Jersey to the Catskills. This could be an interesting set up for Saturday.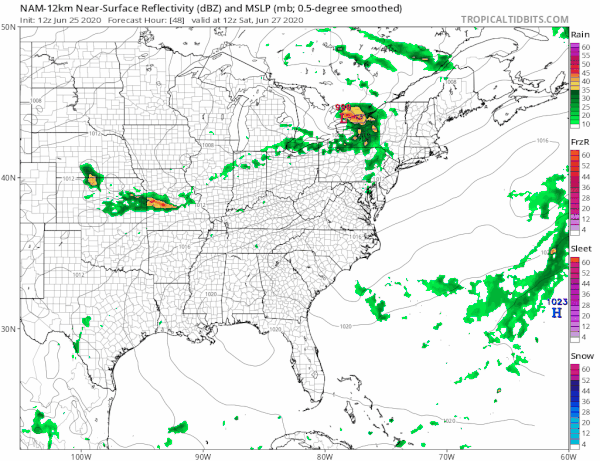 First off Saturday morning we have a warm front that will come through with some scattered showers and thunderstorms ahead of it. Most of the activity passes north of NYC but it is close enough to put in for a chance early in the day. Then heat and humidity return in full force Saturday as highs reach the upper 80s and lower 90s.

Dew points early Saturday morning will be in the mid 50s to near 60 until the warm front passes and then they soar to the mid and upper 60s by 5pm. This makes for a juicy air mass as a cold front approaches.
Now let us add to that a rather robust looking upper air. At 10,000 feet we can see the NAM showing strong jet stream bursts Saturday evening as an upper trough swings across the Northeast US.
The surface front is oriented in an east west fashion which is a little unusual. The east west orientation of the front reduces the marine influence of the still cool ocean and the storms dropping down from the north northwest will hold their intensity as they move southeastward. This will be something to watch when we get to Saturday
SATELLITE

REGIONAL RADAR

This evening with the area on the edge of a broad upper low over the Eastern Great Lakes, we are seeing bands of showers and thunderstorms that have developed across Pennsylvania and into Southern New Jersey and points southward so keep an eye on the radars through this evening and the first part of tonight before the thunderstorms disappear.
LOCAL RADAR NEW YORK CITY
LOCAL RADAR PHILADELPHIA

Friday should be a very warm but it won't be humid with sunshine taking highs to the mid to upper 80s but dew points will remain in the comfortable 50s. Then it is on to Saturday with the hot humid conditions and the severe weather risk outlined above.  Sunday it will still be hot and humid with sunshine and the chance for pop up showers and thunderstorms. Highs will be in the upper 80s and lower 90s. There are no changes in the outlook for next week after looking at today's models. High pressure gradually builds across the Eastern Lakes to Eastern Canada which will bring somewhat cooler air on northeast winds starting Tuesday. It will still be very warm on Monday and a little less humid with highs in the mid to upper 80s. Temperatures will trend lower Tuesday and Wednesday with lower dew points so it will be more comfortable. No widespread rain is forecast next week. Wednesday and Thursday we will throw in some scattered showers or a thunderstorm in the mix as upper air disturbances move southward from New England. Then it is on to the 4th of July weekend starting on Friday the 3rd and it looks good with little chance for rain and temperatures on the warm side.
MANY THANKS TO TROPICAL TIDBITS FOR THE USE OF MAPS
Please note that with regards to any severe weather,  tropical storms, or hurricanes, should a storm be threatening, please consult your local National Weather Service office or your local government officials about what action you should be taking to protect life and property.