Severe Weather Risk Late Thursday, Memorial Day Weekend Looking Better
Whenever the Storm Prediction Center has a risk area posted a few days in advance it is probably a good idea to pay attention. While our weather is just beautiful today, there is a major storm moving through the Plains States today. Severe weather will be widespread across the Middle Mississippi Valley this evening south through Texas. This storm will move northward and weaken before it turns eastward and slides across the Great Lakes Thursday. This is going to force a warm front through the area Thursday and set us up for the potential for some thunderstorms late Thursday and Thursday night until the front passes.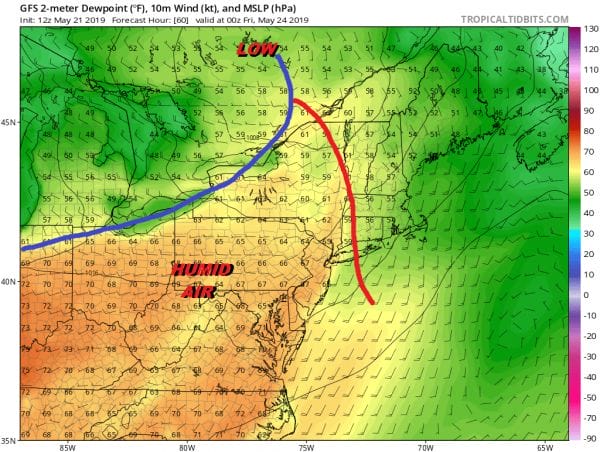 The weather pattern favors weather systems moving along so that bodes well for Friday with sunshine low humidity and temperatures in the 70s to near 80. Now on to the holiday weekend. Saturday should be dry with some sunshine. Another warm front will be moving through early Saturday so humidity will be higher again. A cold front approaches so we could see some showers or a thunderstorm scattered around Saturday night into early Sunday morning. The Storm Prediction Center is hinting at another possibility of severe weather Saturday night. Highs Saturday will be into the 80s except along coastal areas. Weather conditions should improve somewhat on Sunday with some sunshine and clouds. Highs will be in the mid 70s to lower 80s.
Some scattered showers will be around in parts of Pennsylvania late in the day but they should not organize into a serious widespread threat. Some showers could move through Southern New Jersey Sunday night. Much of the area should be dry. The issue for Sunday and Monday will be the frontal boundary that settles to our south. If it is far enough south the weather should be ok though not picture perfect. Monday will see some sun and clouds warm and somewhat humid conditions with another chance for showers and thunderstorms late in the day or Monday night. Highs will be in the mid 70s to lower 80s again. The bottom line is that while not picture perfect for the holiday weekend it should be dry enough most of the time so that any showers don't get in the way of outdoor activities.
MANY THANKS TO

TROPICAL TIDBITS

FOR THE USE OF MAPS
Please note that with regards to any tropical storms or hurricanes, should a storm be threatening, please consult your local National Weather Service office or your local government officials about what action you should be taking to protect life and property.