Severe Weather Risk Inland Today Humidity Rises But Falls Over the Weekend.
Severe Weather Risk Inland Today Humidity Rises But Falls Over the Weekend
We have arrived at the doorstep of the weekend after probably the best week of weather all summer. It takes a turn today as humidity levels continue to rise ahead of a cold front this afternoon. A weather front is approaching today along with an upper trough that will pass to our north. This sets up severe weather risk for the interior Northeast from Pennsylvania northeastward into New England. Marginal risk which is an indicator of isolated severe weather risk is from Southeast Pennsylvania, much of Northern New Jersey into the Hudson Valley and Connecticut. The coastal areas of Southern New England, Long Island and New Jersey are outside the risk zone.
Dew points are rising through the 60s today which are at their highest levels in a week. We will probably see some sun in the mix today but we will also deal with clusters of showers and thunderstorms. The highest chance for those storms will be probably in mid afternoon through Friday evening. Highs temperatures today will be in the 70s to around 80 degrees due to clouds dominating the weather for much of the day verses the amount of sunshine.
SATELLITE WITH LIGHTNING STRIKES

WEATHER RADAR

This cold front is going to move offshore during tonight so we will see any lingering showers or thunderstorms gradually end though we will have leftover clouds around. Lows will be in the 60s. The weekend is looking good. We have another shot of dry air coming out of Canada and moving across the Northeast. This dry air mass will move more east than south so the amount of dew point relief is limited compared to the air mass from earlier this week. However it will do its job.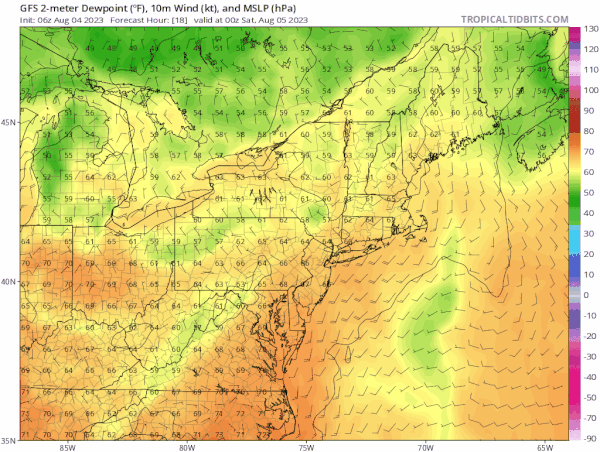 Dew points will drop into the 50s. Notice that the dry air doesn't make it much further south than Southern New Jersey south to Delaware and Maryland. For areas north in Pennsylvania NY State and New England, it will be comfortable both weekend days. Saturday starts with some early clouds and then it goes mostly sunny while Sunday it will be the other way around with sunshine to start and clouds rolling in later.
Saturday forecast highs will be in the low and middle 80s. Sunday high temperatures will be in the mid to upper 80s Dew points will be moving up later in the day Sunday from south to north so while the day starts of dry and comfortable it will be less so late in the afternoon and evening. No thunderstorms are forecast through the dayside Sunday.
Monday could prove to be an interesting day. It isn't often that we see the Northeast and the interior Mid Atlantic catching the eye of the forecasters at the Storm Prediction Center in the long range. It speaks to the confidence level of forecasters there when they show risk in their day 4-8 time frame and they are indicating a high probability of at least a slight risk for severe weather (15 percent) so I think we need to pay attention to this. A cold front and a strong upper trough, coupled with dew points that will be shooting into the 70s will set the stage for potentially severe thunderstorms to develop. We will square this all specifically over the weekend. Highs Monday will be in the very warm 80s to around 90 in some hot spots. Humidity will be high and I would describe it as oppressive. We will likely see the chance for thunderstorms on Tuesday until the upper trough clears the coast and then dry air comes in for a day or so midweek.
MANY THANKS TO TROPICAL TIDBITS FOR THE USE OF MAPS
Please note that with regards to any severe weather,  tropical storms, or hurricanes, should a storm be threatening, please consult your local National Weather Service office or your local government officials about what action you should be taking to protect life and property.
(Amazon is an affilate of Meteorologist Joe Cioffi & earns commissions on sales.)