Severe Weather Risk Inland This Evening
Week Ahead Chilly Below Normal Temperatures
Severe Weather Risk Inland This Evening
Week Ahead Chilly Below Normal Temperatures

We have a cold front that is approaching Eastern Pennsylvania to Southern New England this afternoon and tonight and head of it we will see showers and thunderstorms. The Storm Prediction Center has a marginal risk for severe weather covering most of New Jersey and Northeastern Pennsylvania and the Hudson Valley west of the Hudson river. Isolated severe thunderstorms are possible in this area. Higher risk for Southeastern Pennsylvania and Southwestern New Jersey southward is forecast. Areas to the east are dealing with a south wind and marine air and this should prevent severe thunderstorms from holding together in this zone.
SATELLITE

WEATHER RADAR

A strong southerly flow ahead of the front will keep temperatures cooler along the coast and in Southern N ew England where high temperatures will likely be in the 60s this afternoon, 50s along the immediate coast. Inland highs will be able to reach the 70s with breaks of sunshine warming things up and creating a more unstable atmosphere.
Regional radar is picking up thunderstorms developing across Virginia and it is in this area that the strongest thunderstorms are likely. Look for showers and thunderstorms to approach and move into Eastern Pennsylvania very late this afternoon and evening and then the line will move eastward across New Jersey, the Hudson Valley, NYC, Southern New England, and Long Island tonight. The thunderstorms will weaken as they move eastward.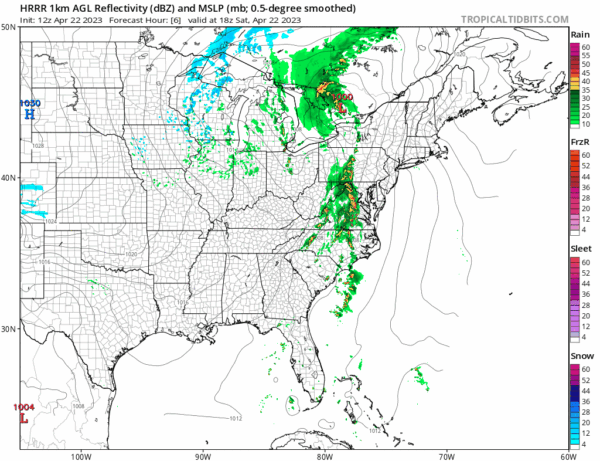 The front is very slow moving and by morning the back edge of the showers and thunderstorms will be near NYC on a north south line so showers will continue Sunday morning in Southern New England and Long Island, gradually ending from west to east by early afternoon. The slow moving front will leave lots of leftover clouds around in the afternoon. Sunday highs will be mostly in the 60s.
Next week will be a chilly week with below normal temperatures. We are seeing blocking developing across North America and this will keep temperatures on the chilly side of normal all week long. It will also shift the storm track southward as lows move across the Southern US. This should keep things mostly dry into Thursday though there are a few weak disturbances in the mix that will be moving from west to east.
Monday and Tuesday we will see some sunshine but there will also be some clouds around. Highs both days will be in the mid 50s well inland to near 60 in some warmer areas to the south. Right now it seems that any widespread rain will wait until perhaps late in the week as a storm develops off the Southeast US Coast though whether it moves northward to bring rain here late in the week remains to be seen.
BE SURE TO DOWNLOAD THE FREE METEOROLOGIST JOE CIOFFI WEATHER APP &
Please note that with regards to any severe weather,  tropical storms, or hurricanes, should a storm be threatening, please consult your local National Weather Service office or your local government officials about what action you should be taking to protect life and property.