Severe Weather Risk Downpours Thunderstorms
Wind Advisory Tonight Into Monday

Weather in 5/Joe & Joe Weather Show Latest Podcast
Severe Weather Risk Downpours Thunderstorms Wind Advisory Tonight Into Monday

We have a strong cold front and developing low that will be moving across Upstate NY and New England later today and tonight. This will turn the wind machine on again from Northern New Jersey to New England including NYC and Long Island. We also have severe weather risk per the Storm Prediction Center.
Marginal Risk has been pushed up northward into Southern New England with slight risk touching Northern Delaware and the PA Maryland state line. Southeast Virginia is in enhanced risk for today. In the meantime the warm front is moving northward with rain spreading from New Jersey to Southern New England.
SATELLITE

As far as rainfall is concerned lets go with the idea of a half inch to an inch or so in most places. Downpours and thunderstorms could drive amounts locally higher. This all moves out this evening and the the winds will pick up again with wind gusts of 40 mph or higher in the wind advisory zone. Skies will clear out. Temperatures today will be in the upper 50s to mid 60s for most places. Warmer temperatures will be south and southwest of NYC. Lows by Monday morning will be in the mid 30s to near 40 in most places. Monday should see sunshine with highs in the 50s and winds slowly diminishing.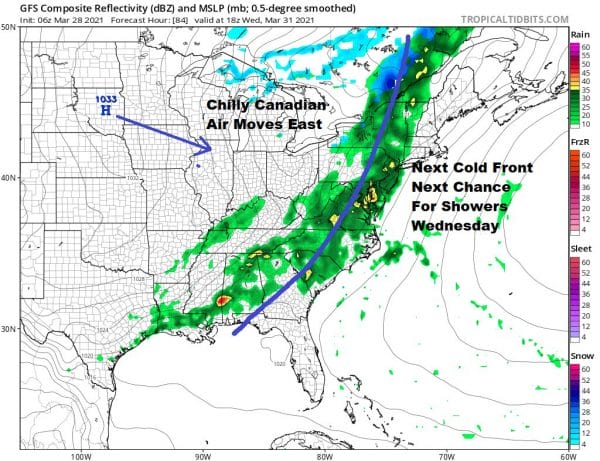 Tuesday looks like a good day with sunshine and temperatures back into the 60s except where the wind off the ocean knocks the temperatures down by a few notches. Wednesday the next cold front approaches with showers moving in during the afternoon into Wednesday night. A developing wave on the front might prolong rain into Thursday morning. The blocky pattern developing could see the rain mix with some wet snow inland Thursday morning Northeast Pennsylvania to the Middle and Upper Hudson Valley to Central New England. Otherwise the wind machine is back on for later Thursday and Friday though it will be cold this time around. Thursday highs will be in the 40s. Friday highs will be in the low to mid 40s with winds making it feel like it is down in the 20s.
At least by the end of the week the sun will return. Easter Weekend sees a strong blocking signature developing across the North Atlantic. This is not that different from the upper pattern we saw in February except that…well…it isn't February. This will likely keep things cool or downright chilly for Easter Weekend. We will be watching weather systems rotating around the upper low to the east and under the block to the Northeast. One such system will bring some rain showers Saturday night into Easter Sunday. They might be snow showers in elevated areas well north and west of the coast. No major storms are forecast.

Please note that with regards to any severe weather,  tropical storms, or hurricanes, should a storm be threatening, please consult your local National Weather Service office or your local government officials about what action you should be taking to protect life and property.