LAST NIGHT'S SEVERE WEATHER IS OVERWITH
SUN & CLOUDS WARM CONDITIONS NEXT 2 DAYS
 ONSHORE FLOW DEVELOPS FRIDAY WEEKEND
Last night's round round of severe weather is now well out to the east and we are seeing improving weather conditions today with some sunshine but there will be some clouds in the mix. The air mass behind the front is not really much cooler than the one we had yesterday. Temperatures today will be in the 70s. There are no shower issues at all to deal with today or Thursday.
EASTERN SATELLITE

REGIONAL RADAR

There are no issues tonight with nothing more than a few passing clouds with lows in the 50s to lower 60s. Thursday sees another cold front coming through but this one doesn't have much to work on. We are looking at sunshine and clouds again with highs in the 70s. The front comes through Thursday night with a chance for a passing shower.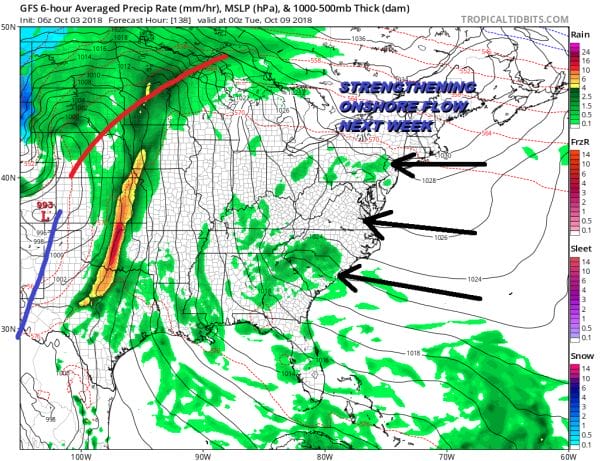 Friday through the weekend a weak high to the north will keep things cooler with an onshore flow, clouds and some sun. Highs Friday and Saturday will be in the 60s. Sunday we could be back into the 70s as a cold front approaches. Then another high builds into Eastern Canada. This high will be stronger and we will see a strengthening onshore flow along the entire East Coast all of next week. Tropical moisture from the Northwest Caribbean and the Bahamas could organize into a tropical system next week as well so there will be much to watch. For us it looks to be dry and cool with temperatures in the 60s next week. Clouds from the onshore flow will be an issue but we don't see much in the way of shower activity into the middle of next week.
SUBSCRIBE TO PATREON FOR A WEATHER EXPERIENCE FREE OF ADS, EXCLUSIVE VIDEOS FOR MEMBERS ONLY AND MUCH MORE…STARTS AT $2 A MONTH..MESSAGE ME AT ANY TIME

MANY THANKS TO

TROPICAL TIDBITS

FOR THE USE OF MAPS
Please note that with regards to any tropical storms or hurricanes, should a storm be threatening, please consult your local National Weather Service office or your local government officials about what action you should be taking to protect life and property.
LATEST JOESTRADAMUS ON THE LONG RANGE