Severe Weather Likely Late Today North Carolina to Western New England
Get ready for what could be a busy day with thunderstorms especially late this afternoon and this evening when we expect a solid line of thunderstorms to move through. Before that it will be about renegade thunderstorms that form out ahead of the main cold front. We also will be watching closely the extent of daytime heating and just how high temperatures get today. If we get enough sun temperatures will reach the upper 80s to near 90. Dew points will be in the 70s making for very high humidity and finally we have a rather strong upper trough that will be swinging eastward giving support to strong convection developing. Follow the radars later today regarding who gets severe weather. Gusty damaging winds, hail, and flash flooding are all possible.
SATELLITE

REGIONAL RADAR

You can see 3 disturbances in play on the regional radar with a weak one near the coast this morning and two stronger lobes to the west particularly the one coming out of West Virginia and moving northeast. The Storm Prediction Center has beefed up the risk of severe weather considerably and covers much of the Northeast and Middle Atlantic States.
On the local radars this morning we are seeing a disturbance moving eastward and offshore with some showers and thunderstorms. The bulk of the thunderstorms have now shifted offshore and are moving to the east. Not much is showing up to the west at the moment as we wait for the daytime heating to get underway.
LOCAL RADAR NEW YORK CITY
LOCAL RADAR PHILADELPHIA
Renegade scattered thunderstorms will be developing around midday and into this afternoon and then it is the main line for the evening commute moving through from west to east. Arrival times will be roughly from between 3pm and 5pm in Eastern Pennsylvania and after 5pm to the east. The map below breaks down the time of greatest risk for severe weather.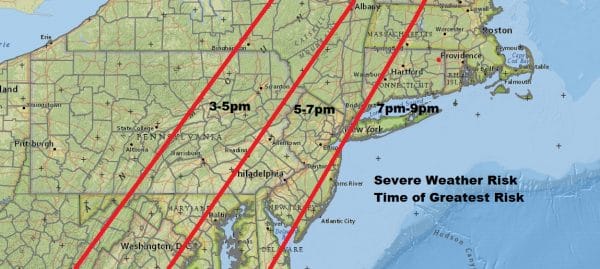 Once the cold front moves through weather conditions will improve overnight. There are no important changes in the outlook going forward. Another cold front approaches on Thursday but there will be far less for that front to work with. Other than a scattered shower or thunderstorm, the front may be a non event for most. Look for sunshine and the humidity will still be running a little high but lower than today. Highs will in the warm mid 80s to near 90.
The front moves through and high pressure builds in for Friday through Sunday with sunshine each and low humidity. This could be the best weekend of the entire summer weather wise. Look for highs in the low to mid 80s Friday and upper 70s to lower 80s for Saturday and possibly for Sunday as well. Next Monday brings the next cold front so for all practical purposes most of us will be done with showers and thunderstorms after today and all of us will be done after Thursday. No rain is forecast Friday through Sunday.
MANY THANKS TO

TROPICAL TIDBITS

FOR THE USE OF MAPS
Please note that with regards to any tropical storms or hurricanes, should a storm be threatening, please consult your local National Weather Service office or your local government officials about what action you should be taking to protect life and property.