Severe Weather Flash Flood Risks Steam Bath Weather Begins
The steam bath pattern begins today as we complete the transition to a hot tropical air mass that will be with us right through the weekend. To the west we have what is left of Barry which is basically a stretched out northeast southwest trough and an upper air trough behind it that is moving along to the east. This will sweep across the area late today and tonight. Add some daytime heating with temperatures shooting up into the upper 80s to mid 90s and you have the juice for showers, thunderstorms, severe weather and flash flooding. The Storm Prediction Center has increased the area of risk from Pennsylvania to much of Southern & Central New England for later today and tonight.
The satellite picture this morning has what is a tropical warm front moving east and that opens up the skies for significant daytime heating. We could see some I often call renegade showers and thunderstorms develop early this afternoon in response to all the daytime heating but the main area of thunderstorms will develop in Eastern Pennsylvania late this afternoon and move across New Jersey, New York City, the Hudson Valley, Southern New England and Long Island this evening and into the first part of tonight.
SATELLITE

REGIONAL RADAR

Much of what is on the radars at the moment is well to the northwest. Try and stay cool as temperatures make their move into the 90s with humidity levels shooting up as well.
LOCAL RADAR NEW YORK CITY
LOCAL RADAR PHILADELPHIA

The overly juiced up atmosphere coupled with the dynamics set the stage for some flash flooding potential with some of these thunderstorms this evening with rainfall rates of 1 to 2 inches an hour.Rainfall across the area will be uneven as is usual in a case like this. Remarkably the short range models seem to agree with the timing and the magnitude of the thunderstorm activity.
The Nam model sequence above is from 5pm this evening to 4am Thursday. It shows a rather impressive line of storms moving slowly through the area. It produces rainfall amounts in excess of 4 inches in some places. We are going to let the radars tell us later today as these small scale models have not handled thunderstorms very well in the last 2 months.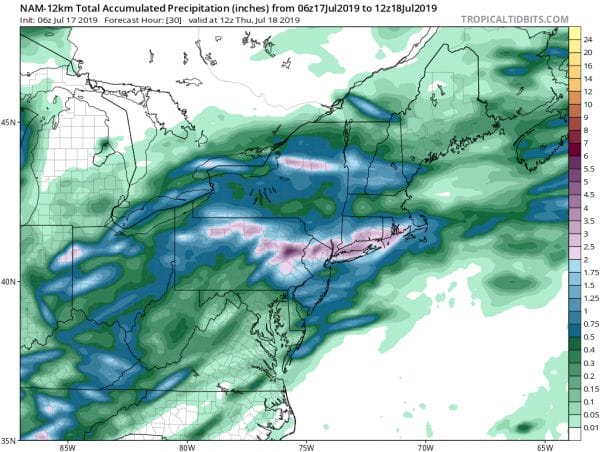 On to Thursday which will have cloud issues as well as some showers and thunderstorms that could develop Thursday afternoon and evening. This should keep temperatures mostly in the 80s with high humidity. Then it is on to the heat and humidity for Friday and the weekend. Highs will be in the 90s Friday  Saturday and Sunday. Saturday remains the hottest day of the stretch with highs between 95 and 100 and heat indices between 105 and 110 in many areas.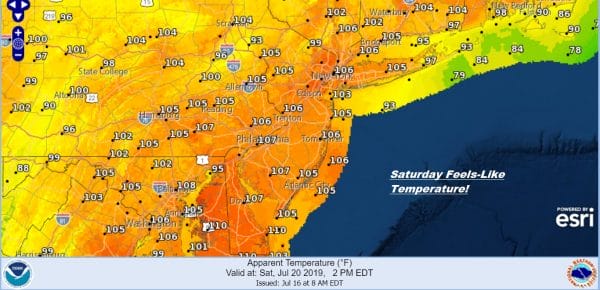 We still see a break coming later on Monday with a cold front and a chance for thunderstorms. Highs Monday will be in the upper 80s and lower 90s. Then assuming the front moves through and keeps on moving (not a complete guarantee at this point), we should see improving weather conditions into the middle of next week with lower temperatures and lower humidity.
MANY THANKS TO

TROPICAL TIDBITS

FOR THE USE OF MAPS
Please note that with regards to any tropical storms or hurricanes, should a storm be threatening, please consult your local National Weather Service office or your local government officials about what action you should be taking to protect life and property.