Severe Weather Flash Flood Risk Continues Inland
Severe Weather Flash Flood Risk Continues Inland
It is a new day and there is absolutely no change in the upper air pattern across the Eastern US. We continue to be in a south to north flowing river of tropical air. This will once again mean the chance for thunderstorms developing this afternoon and evening and some of those storms will produce gusty winds and heavy rains of 2 to 3 inches or more. Flash Flood Watch is up for most of Eastern & Central Pennsylvania except for the southeast part of that state. While a Flash Flood Watch is not up for New Jersey or the Hudson Valley the ground is saturated in many areas and rivers and streams are filled to capacity so flooding is inevitable if thunderstorms decide to sit over a certain area for any length of time.
The thunderstorm activity yesterday was scattered across Northeastern New Jersey to the Hudson Valley and Connecticut. It was more widespread in Central & Eastern Pennsylvania especially last night. Today the area should shift a bit to the east into Northern New Jersey north and west f the turnpike to about NYC into Western & Northwestern Connecticut as well as all of the Hudson Valley.
EASTERN SATELLITE

REGIONAL RADAR

Radars are quiet locally this morning with downpours well to the west in Western Pennsylvania. Once the daytime heating gets underway look for thunderstorms to develop around the region beginning around midday and the reaching peak intensity late this afternoon and evening. Once again, not everyone sees a thunderstorm or a heavy downpour but the risk is there for all.
LOCAL RADAR NEW YORK CITY
LOCAL RADAR PHILADELPHIA

Temperatures have been responding to more sunshine each day so highs will reach the mid 80s to near 90 degrees this afternoon in many locations especially away from the shore. Nights continue warm and humid with lows in the 70s. Friday is likely to be a repeat performance of Thursday.
NAM MODEL FRIDAY NIGHT INTO SATURDAY MORNING CLICK TO ANIMATE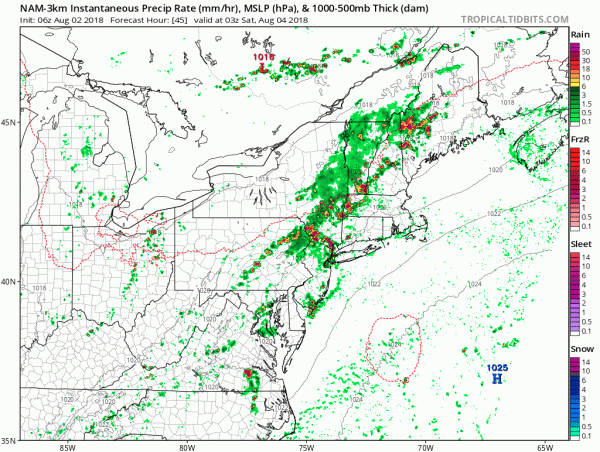 Saturday is looking increasingly problematic especially the first part of the day. A weak cold front will be pushing through and slowing down as it goes by. There will be showers and thunderstorms late Friday night into Saturday morning. They may take most of the day to get out of the way in which case we will have lots of clouds warm and humid conditions with highs in the 80s and not much in the way of sun. The NAM model gets most of the showers and thunderstorms out of the way by midday Saturday. We shall see about this. Either way we transition over to hot humid conditions for Sunday and Monday with highs in the 90s and only a small chance for an isolated shower or thunderstorm. Tuesday brings a cold front through late in the day with the chance for thunderstorms and highs in the 90s. Some slight relief is likely for the middle and latter part of next week though it may take some time for cooler drier air to work into the area.
Please note that with regards to any tropical storms or hurricanes, should a storm be threatening, please consult your local National Weather Service office or your local government officials about what action you should be taking to protect life and property.

GET JOE A CIGAR IF YOU LIKE 
LATEST JOESTRADAMUS ON THE LONG RANGE