There is the threat for severe thunderstorms and heavy rain today but I just want to lay out the fact that this morning should be dry. The action should be developing during the afternoon and into the first part of tonight. There is a strong upper trough that is swinging out of the midwest and it will essentially produce 2 surges of rain. The first one will have that possiblity of severe weather while the second one for Sunday will be from a developing wave to our south.
I am using the nam model graphics from Tropical Tidbits which has all the major models available. This map is what the nam predicts the radar will look like at the given time point. The first map is for 8pm tonight and the second is for 2am Sunday morning when the rain is done in western areas and getting ready to end in the east. It does show heavy rains with embedded heavier thunderstorms. I think the best way to approach these models is to say that it doesn't always get the exact areas correct and it is best to assume that anyone in the area from the Eastern half of Pennsylvania to Southern New England could get into some heavy downpours that might produce some flooding issues.
Now with regards to Sunday I think it is possible that the morning could be rain free. However with the strong upper air disturbance forecast to move through there could be another round of showers and downpours Sunday afternoon into Sunday night. The difference here is that the main area may be more to the east; from Northeastern New Jersey and the Hudson Valley, Connecticut and Long Island.Western New Jersey and the Eastern half of Pennsylvania would see more in the way of isolated downpours. Not all the models agree with this idea for Sunday as the GFS has a larger area of rain for the area while the European focuses on the Coast from Easternmost New Jersey through Central and Eastern Long Island and much of central and eastern Connecticut. My thinking here is that it is bet on the possibility of downpours for everyone Sunday afternoon and evening from Western New Jersey eastward. Rainfall totals could exceed 2 inches in some areas.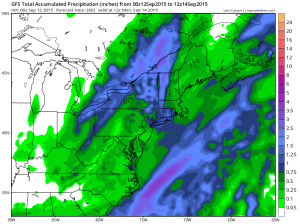 The nam model has about 1/2 the rainfall as the GFS. I think in general it will be a widespread 1 to 2 inch rainfall as everyone is going to get into this. With regards to the severe weather risk there is more on the severe weather page. The outlook for the week is back to warm weather with no rain and above normal temperatures and Joestradamus has more on that.
During severe weather or bright sunshine, download my weather app for all platforms and subscribe to my ad free security breach free app for just 99 cents a month.