Severe Thunderstorm Watch Pennsylvania New Jersey
The Storm Prediction Center has posted a Severe Thunderstorm Watch until 3pm this afternoon for much of Pennsylvania and Southern New Jersey. We have been following a complex of thunderstorms that formed in the upper Midwest yesterday and has held together overnight as it moves east southeastward. This is a mesoscale convective complex or an MCC and it is capable of producing destructive winds of 60 mph or more as well as very heavy rains.
SATELLITE

REGIONAL RADAR

Regional as well as the local radars are picking up this complex that has strengthened this morning. It is reacting to the very warm humid air that has pushed into the Northeast behind a warm front. Embedded in this complex is a solid line of severe thunderstorms moving through Central Pennsylvania and headed in and east southeast direction. These storms are now in range of the local radars below.
LOCAL RADAR BINGHAMTON
LOCAL RADAR PHILADELPHIA

Warnings are already going up in advance of the complex that should be moving through the watch area over the next 4 hours or so. It is moving very fast and the added momentum will add to the wind potential. The severe weather risk continues this afternoon and into this evening as the Storm Prediction Center has the area in enhanced risk for severe weather. There is a 30% chance of destructive winds within 25 miles of any point in the risk zone.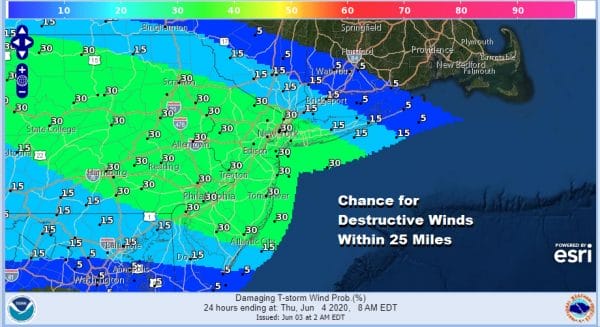 While there is still time it would be a good idea to secure any loose objects outdoors and keep an eye to the sky for threatening weather. We will be going live on youtube at 1pm with Joe Rao to cover these thunderstorms.
MANY THANKS TO TROPICAL TIDBITS FOR THE USE OF MAPS
Please note that with regards to any severe weather,  tropical storms, or hurricanes, should a storm be threatening, please consult your local National Weather Service office or your local government officials about what action you should be taking to protect life and property.