DOWNLOAD MY NEW FREE JOESTRADAMUS WEATHER APP FOR ANDROID
WEATHER MODELS EVEN COLDER THANKSGIVING DAY..COLDEST SINCE 2002
Overnight weather models have turned even colder for Getaway Wednesday Thanksgiving & Black Friday. Firstly with regards to any travel plans you have this week the weather looks relatively tame from the standpoint of rain or snow. We have a bit of that to deal with today and tonight as a frontal boundary sits over us today. Expect lots of clouds with highs reaching the upper 40s to lower 50s. No rain is forecast today but the frontal boundary does sink southward and it puts in line for some rain, and the chance for some snow north of Route 84 in upstate NY and in New England overnight into Tuesday.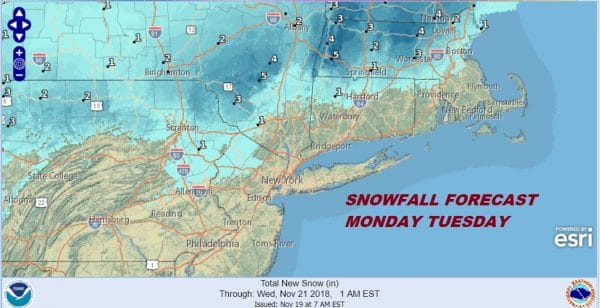 Low pressure will be developing along a frontal boundary will likely strengthen a bit once the low gets to the east of Long Island Tuesday morning. Heavier snow is probable in New England from this. Plan your travel accordingly. Weather conditions will improve during the day Tuesday.
South of Route 84 in NYC & Pennsylvania it is mostly rain though some snow could sneak into Northwest New Jersey, we don't expect it to amount to much here. Tuesday's temperatures will be in the 40s. Then the cold air arrives on Wednesday. An arctic front will move through during the day Wednesday and there could be some snow showers when the front goes by. Temperatures will fall into the 30s and winds will increase and become rather gusty. Then it is down we go for Thursday, Thanksgiving morning.
Low temperatures Thursday morning will be in the teens to near 20 and highs on Thanksgiving day will be in the 20s to near 30. This will be the coldest Thanksgiving since 2002 and it could be the second coldest since 1930 when the low in NYC was 15 and high was just 27! Friday morning could be even colder with lows everywhere in the teens.
At least the weather will be dry Thursday and Friday and there is no snow in the forecast. In fact the cold air will start to pull out Friday with highs in the 30s to near 40. Over the weekend we will warm further with highs in the 40s and we will throw in the chance for rain coming. We will look ahead to the long range later today.
EASTERN SATELLITE

REGIONAL RADAR

LOCAL RADAR NEW YORK CITY
LOCAL RADAR PHILADELPHIA

SUBSCRIBE TO PATREON FOR A WEATHER EXPERIENCE FREE OF ADS, EXCLUSIVE VIDEOS FOR MEMBERS ONLY AND MUCH MORE…STARTS AT $2 A MONTH..MESSAGE ME AT ANY TIME

MANY THANKS TO

TROPICAL TIDBITS

FOR THE USE OF MAPS
Please note that with regards to any tropical storms or hurricanes, should a storm be threatening, please consult your local National Weather Service office or your local government officials about what action you should be taking to protect life and property.
LATEST JOESTRADAMUS ON THE LONG RANGE