Scattered Thunderstorms This Evening Severe Weather Risk Saturday
All this humidity around today leaves the door open for scattered thunderstorms through this evening. Most of the thunderstorms should be inland and away from coastal locations and coastal counties with the threat increasing further inland. The wind is more southeast today which between that and the clouds temperatures are bit lower but the humidity is higher. Dew points are into the 70s. This is creating very uncomfortable conditions area wide.
The satellite picture this afternoon shows the impact of all this tropical air that is sitting over us. We should soon see some scattered thunderstorms developing shortly going into the evening hours. Right now the regional radar is not showing very much activity.
SATELLITE

REGIONAL RADAR

Local radars are picking up on some scattered downpours and possible thunderstorms popping up in a few places. Peak activity will be from 4-7pm and then die off after that.
LOCAL RADAR NEW YORK CITY
LOCAL RADAR PHILADELPHIA

Let's move on to Saturday which will be a hot humid day with some sunshine but we do have an approaching cold front. With all this tropical air, high dew points and strong dynamics thunderstorms are likely late in the day. The Storm Prediction Center has us at a marginal risk for severe weather and I would not be surprised to see a strong line of thunderstorms develop late in the day Saturday moving northwest to southeast with clusters of other thunderstorms developing around it. Highs Saturday will be in the mid 80s to some lower 90s. The humidity will make it feel like it is over 100.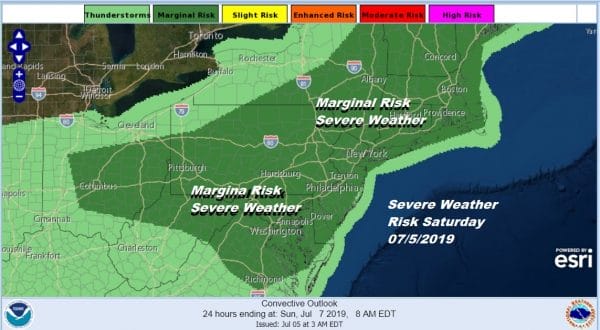 There is a push of dry air moving southward for Sunday but the cold front is likely to slow down as settles across the Middle Atlantic States. This creates cloud issues. Right now I'm thinking the weather from Northeastern Pennsylvania to Northern New Jersey, the Hudson Valley, NYC, Long Island and Southern New England will be okay with some sunshine. This area will see the humidity drop some. It will probably still be on the humid side for Southern Pennsylvania and Southern New Jersey southward. There is the chance for some showers or a thunderstorm developing in this zone during the midday hours before the front pushes far enough south to allow drier air to arrive.
Monday we should see dry air push further south with sunshine and temperatures in the low to mid 80s. We should be able to hold on to reasonable humidity into Wednesday before we see the next cold front approach for later next week.
MANY THANKS TO

TROPICAL TIDBITS

FOR THE USE OF MAPS
Please note that with regards to any tropical storms or hurricanes, should a storm be threatening, please consult your local National Weather Service office or your local government officials about what action you should be taking to protect life and property.