Scattered Showers Thunderstorms Today
As Very Cold Air Moves In Sunday Through Tuesday

Scattered Showers Thunderstorms Today
As Very Cold Air Moves In Sunday Through Tuesday

This Saturday certainly would not describe today as a washout by any means however we are going to be dealing with some of what is known as self destructive sunshine. The air aloft is very cold and it makes for a very unstable atmosphere. You can see the signature on the satellite picture with bands of clouds with breaks between them. This shows up the same way on the radars today as we deal with bands of showers and possibly even a thunderstorm or two, with dry stretches in between. Temperatures today will be mostly in the 50s.
SATELLITE

WEATHER RADAR

All of this is being caused by a strong upper trough and cold front that is going to be ushering in very cold air starting Sunday and lasting into Tuesday. Once we get through any showers or thunderstorms this evening, skies will partially clear and it will turn windy with lows in the 30s. Sunday will be a day of sun and clouds, gusty winds and the chance for a rain or snow shower. Highs will be in the 40s. Then we head south in a big way and by Monday morning under clear skies, lows will be in the teens to lower 20s.
Monday will be a very cold day indeed. Average highs this time of year should be up in the low and middle 50s. We will be some 20 degrees below that in many areas Monday. If we seasonally adjust this, our temperatures would be average for early February and if we compare the below average figure, it would be like a day in January where temperatures would not make it out of the teens! Expect lows in the upper teens to lower 20s Tuesday morning. Sunshine and high clouds Tuesday will start a slow temperature recovery with highs back into the 40s.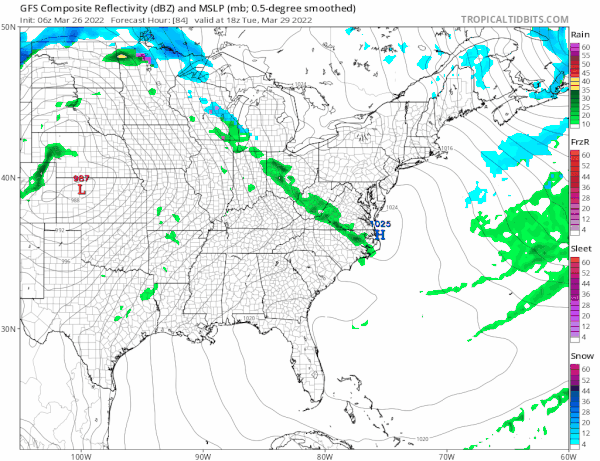 The cold air begins to pull out Tuesday and as warmer air tries to arrive it will produce clouds and maybe a little rain or wet snow Tuesday night into early Wednesday morning. We are talking light precipitation here if any. Otherwise it will be a slow warm up as we struggle with a developing wind off the ocean and another stronger cold front coming in from the west. This will open the door to some rain or showers later Thursday into early Friday before it turns colder and drier behind it. If you are looking for a long stretch of warm nice weather, keep looking because there isn't any of that over the next week to 10 days.
Please note that with regards to any severe weather,  tropical storms, or hurricanes, should a storm be threatening, please consult your local National Weather Service office or your local government officials about what action you should be taking to protect life and property.