Scattered Showers Thunderstorms This Evening Tuesday Looks Good
Severe Weather Risk Wednesday

Weather in 5/Joe & Joe Weather Show Latest Podcast
Scattered Showers Thunderstorms This Evening Tuesday Looks Good
Severe Weather Risk Wednesday
An upper trough is moving through the area this evening and it is producing clouds and some scattered showers and thunderstorms on the radar. Not everyone will see showers. Most of them are inland of the coast and they should gradually wind down after sunset and after the trough moves by. To the northwest you see the arc of clouds with a cold front that is slowing down and stalling well to the west, leaving us in a good place for Tuesday. Most lows tonight will be in the mid to upper 40s.
SATELLITE

Tuesday is no question the best weather day of the week so take advantage of it. We will see plenty of sun as we will be in a sweet spot in between weather systems. With a solid launching pad of temperatures in the 40s Tuesday morning we should reach low to mid 70s for highs.
The stalled cold front to the west starts to move as low pressure develops in Kentucky and moves northeast into New England Wednesday night. The trailing cold front will approach and move through Wednesday evening. Ahead of it look for some showers and thunderstorms Wednesday afternoon. Upper air conditions are unstable enough that we have a marginal risk for severe weather Wednesday. Highs will be in the 60s.
The NAM model is picking up on a line of thunderstorms arriving at the coast by 5pm. This is supported by a strong jet of 50 to 60 knot winds ahead of the cold front and they show up in a narrow band from Western New England to the Middle Atlantic states.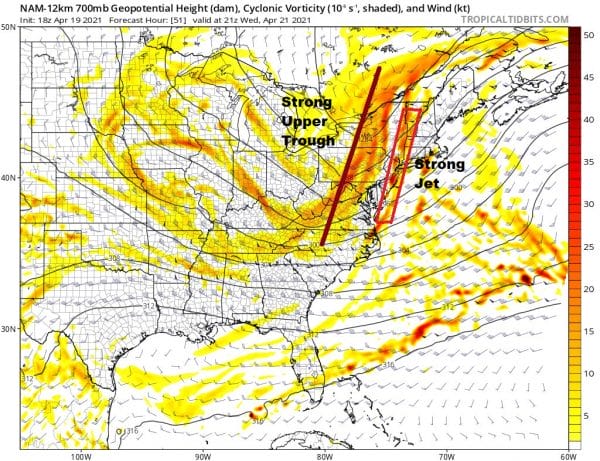 Behind the front winds will strengthen from the northwest as low pressure intensifies in Northern New England and Eastern Canada. The pressure gradient will be very tight and that means we have strong gusty winds later Wednesday night and Thursday. I'm still thinking we will be just below wind advisory criteria with gusts of 30 to 40 mph. We will have a mix of sun and clouds Thursday. Highs will be just in the upper 40s and lower 50s.
Friday we should see a bit of a bounce in temperatures and it will still be rather breezy all day. Highs Friday will be in the upper 50s and lower 60s with some sunshine. The weekend remains a question. Saturday still looks like the better of the two weekend days with sunshine and some late day arriving clouds with highs in the 60s.
A cold front approaches Saturday night and a wave develops on that front and heads from the Gulf States to the Middle Atlantic coast Sunday morning. A large area of rain will accompany this. The low should move along with rain possibly coming to an end during Sunday afternoon from west to east. Highs will be just in the 50s. Beyond that the GFS model wants to warm it up nicely for the first half of next week but the European model is a bit more hesitant on that idea. The GFS is less blocky and allows a ridge to pop up in the east so that will be the issue at hand. If the blocky pattern is weaker than the warm up has a shot of happening.
MANY THANKS TO TROPICAL TIDBITS FOR THE USE OF MAPS
Please note that with regards to any severe weather,  tropical storms, or hurricanes, should a storm be threatening, please consult your local National Weather Service office or your local government officials about what action you should be taking to protect life and property.