Scattered Showers This Afternoon
Saturday Better Than Sunday Week Ahead Outlook

Scattered Showers This Afternoon
Saturday Better Than Sunday Week Ahead Outlook
WE are seeing lots of clouds around this afternoon thanks to an upper trough that is moving through. It is creating changeable sky conditions which is allowing for some breaks of sun. However the air is cold and unstable aloft so until the trough passes offshore we will continue to see clouds and the risk for some scattered showers. Temperatures this afternoon will be mostly in the 50s and that will be coupled with a gusty northwest wind.
SATELLITE

WEATHER RADAR

Scattered shower we are seeing on the radar are mostly light and they will diminish this evening. Skies should clear out later tonight with lows in the 30s. Saturday will be the better of the two weekend days. High pressure though week should keep us in sunshine. Highs will be in the 50s.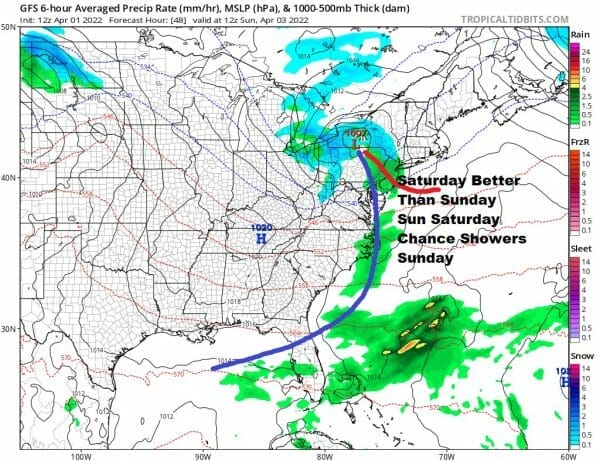 Saturday night low pressure from the Great Lakes will move southeast to Ohio and then east and off the coast Sunday morning. This is a weak system but there is enough moisture with it to produce clouds Saturday night and we could see a period of rain or showers Sunday morning. Otherwise look for lots of clouds. Perhaps we could see some improvement in sky conditions Sunday afternoon. Highs will be in the low to mid 50s.
Next week we will see another system come out of the Southern Plains and head northeastward. Our weather should be fine Monday with highs in the mid to upper 50s. However clouds will increase Tuesday and look for rain to develop Tuesday afternoon and last into Wednesday morning before the low moves to the northeast. Severe weather will be an issue across the Gulf States again next week in another repeat performance there of elevated severe weather risk. Here in our area another cold front could set off some showers and thunderstorms late Wednesday or Wednesday night with improvement to follow afterwards. Temperatures will be in the mid 50s to low 60s Tuesday and into the 60s on Wednesday.
Please note that with regards to any severe weather,  tropical storms, or hurricanes, should a storm be threatening, please consult your local National Weather Service office or your local government officials about what action you should be taking to protect life and property.