Saturday Brings Rain With Snow Upstate NY Interior New England,
Colder Sunday Monday

Weather in 5/Joe & Joe Weather Show Latest Podcast
Saturday Brings Rain With Snow Upstate NY Interior New England,
Colder Sunday Monday
Low pressure is heading east from the Ohio Valley for Saturday and it will move over Pennsylvania, redeveloping over Southeast New England. This is I-90 snow written all over it and it looks like it will be a moderate snowfall with the heaviest from Albany west and less in New England.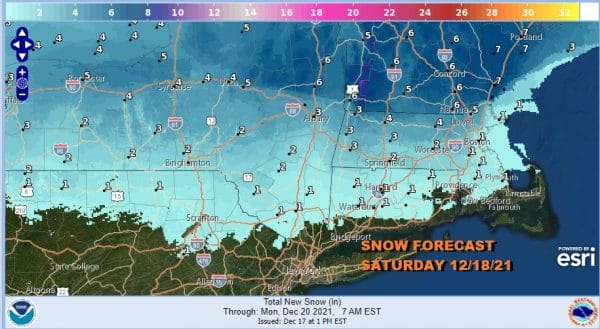 Meanwhile as we close in on the weekend and we are doing it this afternoon with clouds and sunshine. We have plenty of leftover warm air from yesterday and that has put us in a lovely afternoon of temperatures in the upper 50s to lower 60s. There is colder air getting ready to bleed southward tonight and this is going to set up well for snow across Upstate NY and interior New England for Saturday but the edge of the colder air barely makes it down to the coast. Clouds will be slowly increasing tonight with most lows in the upper 30s to middle 40s.
SATELLITE

WEATHER RADAR

Of the two weekend days Saturday will be the worst of the two. It seems that there will a shot of rain coming in mid morning until noon and it should be mostly done by midnight or so. In fact in some areas south and west of NYC it could be mostly done by mid afternoon Saturday.
South of Route 78 in New Jersey and even Route 80 in Pennsylvania, the rain is minimal. This due to the low track which is across Northern Pennsylvania and then east to just east of Long Island tomorrow night. This puts temperatures in a very wide range for Saturday. 50s are likely from Southern Pennsylvania and Central New Jersey south with 40s and 30s as you go north into NY and New England.
This system will do what it is supposed to do and leave so weather conditions improve on Sunday but it does turn colder. We will have sunshine back for Sunday. It will be breezy with highs mostly in the upper 30s and lower 40s. The week heading into Christmas begins on a sunny note with highs mostly in the upper 30s to around or just over 40.

Please note that with regards to any severe weather,  tropical storms, or hurricanes, should a storm be threatening, please consult your local National Weather Service office or your local government officials about what action you should be taking to protect life and property.