The cold front that is approaching for late this afternoon and evening isn't super powerful but it is strong enough to cause the Storm Prediction Center of the National Weather Service to put much of our area from Southern New England to Southeast Pennsylvania and Southern New Jersey & everyone in between at risk for severe weather though the risk is marginal
It looks to me that the biggest threat for the area will be sometime between 2pm and 9pm and once the front moves offshore we will see skies clear out rather quickly. Rainfall amounts don't appear to be too extreme at all and could wind up being under one half inch in most places mainly because the amount of tropical moisture around is limited and this does not seem to be the type of situation where fronts sit over one spot as they will be moving. This does create the opportunity for some gusty winds in some thunderstorms. With temperatures poised to reach 80 in some places I would not at all be surprised to see one or two cells become strong.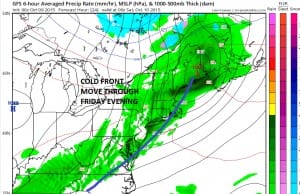 Once the front moves on through we have absolutely no weather issues with regards to the weekend. See my earlier weekend forecast post that takes us through Monday Columbus Day with no issues. The long range is looking colder so check JOESTRADAMUS for the latest on that. Marine issues today and early Saturday so if you are boating or fishing make sure you check the marine forecast page with advisories posted.
Also be sure to download my app and subscribe to my forecasts. The app is free and a subscription is just 99 cents a month. It certainly comes in handy in severe weather to know what my specific forecast is for New York New Jersey Pennsylvania or Southern New England. There are no web ads on the app and there are no security or tracking issues.