TROPICAL CYCLONE DEVELOPMENT BECOMING LIKELY EARLY NEXT WEEK
TROPICAL SYSTEMS LIKELY TO IMPACT LONG RANGE WEATHER PATTERN
We have been closely watching the disturbed weather in the Western Caribbean for the last several days. Upper level winds have been hostile for development but the disturbance is forecast to move out of the NW Caribbean and into the Southeast Gulf of Mexico early next week where upper level winds are forecast to relax. Conditions will be favorable for development. Weather models show at the very least a tropical depression or tropical storm developing there and then head northward toward the Central or Eastern Gulf Coast.
WIDE ATLANTIC TROPICAL SATELLITE

As always with these things there is uncertainty regarding development and track with weather models. The GFS late this afternoon went rather aggressive with developing this system with the European showing a less developed weaker system.
Hurricane track models this season have done very well with their forecasts and the initial runs show a rather clustered track toward the Eastern Gulf coast. We will evaluate this further over the weekend.
There are some long range implications here that need to be brought to the forefront. First off is a track up the eastern side of the Appalachians. This opens the door for a heavy rain episode up the East Coast later next week over areas that have suffered enough this summer and early fall. The other issue will be how this possible storm chances the upper air in the longer range. This system could be the catalyst for bringing cold autumn air into the Eastern US.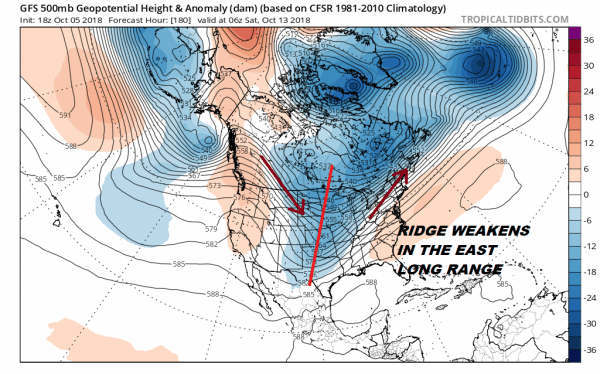 SUBSCRIBE TO PATREON FOR A WEATHER EXPERIENCE FREE OF ADS, EXCLUSIVE VIDEOS FOR MEMBERS ONLY AND MUCH MORE…STARTS AT $2 A MONTH..MESSAGE ME AT ANY TIME

Please consult your local National Weather Service office at weather.gov for the latest information on any tropical or storms or hurricanes that could be a threat to your area. Consult your local government officials regarding action you may need to take to secure life and property
FiOS1 News Weather Forecast For Long Island
FiOS1 News Weather Forecast For New Jersey
FiOS1 News Weather Forecast For Hudson Valley
LATEST JOESTRADAMUS ON THE LONG RANGE