Relatively Quiet Week Ahead With Occasional Weather Issues Possible

Weather in 5/Joe & Joe Weather Show Latest Podcast
Relatively Quiet Week Ahead With Occasional Weather Issues Possible
A new week begins and we start it off with a low hanging around near the coast today with a cold front that is offshore. This is producing some showers in Upstate NY and interior New England but for everyone else this will likely be one of those days where we have cloudy to partly sunny conditions. More sun is forecast south of Philadelphia with more clouds north and east of NYC. In either case shower or thunderstorm activity will be extremely limited today and overall it should be an okay day.
SATELLITE

WEATHER RADAR

Radar is picking up on showers well north and also offshore but inland it is quite. Other than an isolated shower or thunderstorm that might pop up, it should be a dry day for most folks.

Dew points today will be in the middle 60s and that will mean it will be somewhat uncomfortable. As for temperatures we are looking at a bit of range today depending on the amount of sunshine. Across Southern Pennsylvania and Southern New Jersey for example highs will be in the mid 80s to near 90 degrees while areas from the Hudson Valley to Southern England highs will be in the upper 70s to lower 80s since this area is closer to the low center and the cold front that lies just offshore.
Tuesday looks like it is going to be the hottest day of the week ahead of another weak cold front that will be moving southeast from the Great Lakes and Southeastern Canada. Look for hot and humid conditions with highs reaching into the 90s in many locations. We will also throw in the chance for scattered late day thunderstorms as this weak front approaches Tuesday night.
That front like the others gets temporarily hung up near the coast Wednesday so that will be another one of those cloudy to partly sunny days and we will throw in the chance for a shower or thunderstorm though the chances aren't all that high. Temperatures will be a little lower from Tuesday but it will still be very warm to borderline hot and it will remain humid with highs in the mid 80s to near 90.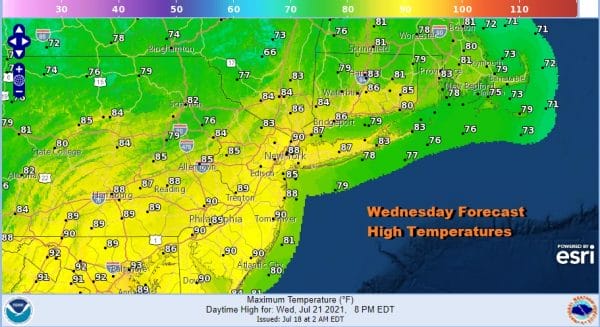 Thursday could be the one day this week where we get a little dew point relief and little to no chance of shower and thunderstorm activity with a northwest wind and sunshine. Highs will be in the mid to upper 80s. Friday sees another cold front approach so the humidity goes somewhat higher with some sun and clouds and the chance for a late shower or thunderstorm. Highs again will be in the mid to upper 80s. For these weather systems seem weak enough that severe weather this week should not be an issue. As for the weekend Saturday looks good but Sunday could see yet another cold front and the chance for showers and thunderstorms.

Please note that with regards to any severe weather,  tropical storms, or hurricanes, should a storm be threatening, please consult your local National Weather Service office or your local government officials about what action you should be taking to protect life and property.