Refrigerator Repair The JOESTRADAMUS Way
Refrigerator repair is one of those things you want done right away when your refrigerator is broken. Winter weather lovers feel this way after the last 2 months and particularly this record breaking warm December. JOESTRADAMUS understands this and has repeatedly stated that the process of refrigerator repair when it comes to the atmosphere takes time and it is a slow grinding process. However the process continues and it will still need more time to work through. The process however is continuing and all models continue to point to this as we head into January. The repair process might still take another couple of weeks or so to play out but it does seem to be happening.
This map is the current upper air jet stream map and as you can see it is the same old pattern. Ridge in the east, trough in the west. However beginning tomorow we start moving toward a change in the upper air pattern that models have been advertising for over a week now and with great consistency.
All three ensembles sets show the same idea. Troughing developing in the east combined with a strong ridge from the Pacific Northwest into Canada and a split flow in the west. The subtropical jet stream in the west coming in to Southern California instead of the Pacific Northwest is also a very important shift. This has the potential to create a very active southern stream of energy. This stream could be a storm producer later this month.
Now the ensemble maps here are averages of all the members. What is shown is a smoothed out average of the jet stream pattern. There will be variations along the way from day to day however so this doesn't mean its going to be cold every day. It does mean that the overall pattern is transitioning away from the one we have been in for the last 2 months. It does suggest potential for a very wintry and possibly active pattern from mid January on. In terms of specifics we simply have to watch like we always do and wait for specific systems to appear. Refrigerator repair JOESTRADAMUS style continues to move slowly forward.
WINTER WEATHER ADVISORIES OVERNIGHT FOR MANY AREAS
NATIONAL WEATHER SERVICE SNOW FORECASTS
LATEST JOESTRADAMUS ON THE LONG RANGE
Weather App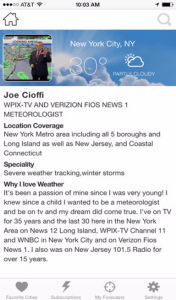 Winter is coming. Don't be without Meteorologist Joe Cioffi's weather app. It is a complete weather app to suit your forecast needs. All the weather information you need is right on your phone. Android or I-phone, use it to keep track of all the latest weather information and forecasts. This weather app is also free of advertising so you don't have to worry about security issues with your device. An accurate forecast and no worries that your device is being compromised.
Use it in conjunction with my website and my facebook and twitterand you have complete weather coverage of all the latest weather and the long range outlook. The website has been redone and upgraded. Its easy to use and everything is archived so you can see how well Joe does or doesn't do when it comes to forecasts and outlooks.
Just click on the google play button or the apple store button on the sidebar for my app which is onMy Weather Concierge. Download the app for free. Subscribe to my forecasts on an ad free environment for just 99 cents a month.
Get my forecasts in the palm of your hand for less than the cost of a cup of Joe!