Record Temperatures Today Sunday Showers Thunderstorm Possible Overnight
We have a very impressive storm system moving northeastward from the Gulf States to the Lower Great Lakes today producing everything from snow and ice from Michigan to Oklahoma. to sever weather and tornadoes across the Central Gulf Coast and later today and tonight in the Eastern Gulf States and the Southeast US. Heavy rains are flooding parts of the Ohio and Tennessee Valley, and snow and ice is likely in parts of Northern NY and throughout Northern New England.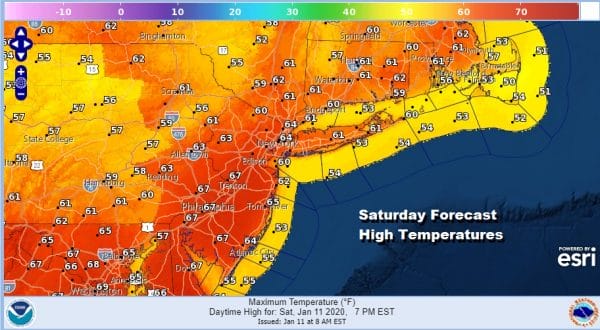 For us the impact is really not only minimal but actually rather enjoyable. We will have clouds and some sun today with a gusty southwest wind at times. Temperatures will be in the 60s and that gives us the likelihood of some record highs. If it is going to be warm..let it be nice and warm with no shower issues and we will be rain free here today and for that matter most of the weekend.
SATELLITE

REGIONAL RADAR

With this low tracking so far to the west and north this will keep the chance for showers and perhaps a thunderstorm confined to the early morning hours between 1am and 8am Sunday. After that it will be rather windy and still warm with sunshine developing rather quickly on Sunday. Highs will be in the mid to upper 60s and someone could possibly reach 70.
Next week brings some changes and while temperatures will be above average for the first half of next week, it will be down trending. We will be seeing a radical shift in the upper air pattern from one where the Western US has all the wintry conditions to one that brings a return to colder conditions to the East.
The first important system will be Wednesday night into Thursday of this week with a strong cold front bringing down cold air into the Eastern US. This will set us up for next weekend with the likelihood of snow ice and/or rain. We will be discussing the prospects further later today on our weather platform on Patreon.
MANY THANKS TO TROPICAL TIDBITS FOR THE USE OF MAPS
Please note that with regards to any severe weather,  tropical storms, or hurricanes, should a storm be threatening, please consult your local National Weather Service office or your local government officials about what action you should be taking to protect life and property.