Record Heat Wednesday, Transition Day Thursday, Chance Frost Inland Saturday Morning
We broke out wide open during this afternoon with lots of sunshine. Temperatures shot up quickly into the 80s west and south of NYC and even reached mid to upper 80s Southern Pennsylvania southward into Maryland. North and east of NYC we reached the 70s to near 80. Humidity levels are up and we are setting up for highs near or over 90 with records possible on Wednesday. NYC Central Park has not seen a 90 degree high in October since October of 1941!
SATELLITE

REGIONAL RADAR

Regional and local radars are showing absolutely nothing as far as showers are concerned from North Carolina to Maine with just a few showers in the upper corners of NY and Vermont. No issues as far as showers go are in the forecast for tonight into Wednesday morning. Lows will be in the 60s to near 70 overnight.
LOCAL RADAR NEW YORK CITY
LOCAL RADAR PHILADELPHIA

The launching pad is set for blastoff Wednesday. The frontal boundary will be setting up just north of Route 84 where temperatures to the north will be in the mid to upper 70s for highs. The front will pass through first here and then make its way southward as the afternoon wears on. Highs will reach 90 or higher from NYC south and west and as we mentioned earlier, records are possible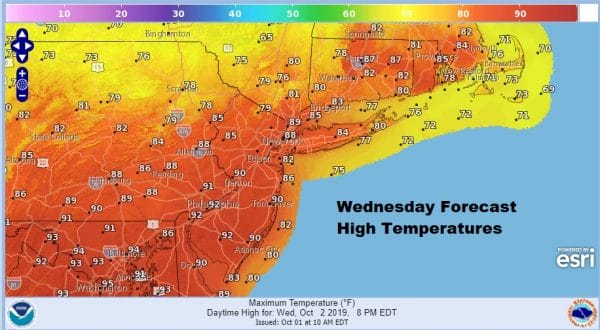 There certainly will be clouds when the front goes by along with a wind shift to the northeast. Also there will be some scattered showers and possible thunderstorms. In spite of the record heat, no severe weather is forecast by the Storm Prediction Center.
The front passes by and drops southward stalling out somewhere in Southern New Jersey west into Maryland. The cool off Wednesday night into Thursday morning will be significant with temperatures dropping some 30 degrees or more from the daytime highs of Wednesday. However the range from north to south will be wide from 40s in the Hudson Valley to upper 60s to near 70 Southern New Jersey back to Delaware.
We have a second front to deal with on Thursday and this front will not have a sweeping warm front shooting northward so highs will range from the 80s in South Jersey to the upper 50s and lower 60s from Northern New Jersey to Southern New England. Some showers are likely especially early in the day and late in the afternoon into Thursday night.
This second front is significant because it breaks the back of the dominant upper high in the east and it will go away now for awhile at least if not longer. Friday will be breezy and cool with some sunshine and highs just in the 60s. We are setting up for the coldest night of the early Autumn season and the coldest night probably since back last may. In fact areas north and northeast of NYC are likely to see the seasons first frosts in some areas Saturday morning with chilly morning lows in the 30s and 40s.
Saturday is shaping up to be an apple picking pumpkin picking type of day with sunshine and highs just in the 60s. This shot of cool air and the high with it moves out Sunday as the next cold front arrives for Monday with the first chance for widespread showers. Sunday we will see some sun early with arriving clouds. Then a good chance for showers is forecast for Monday with another shot of cool dry air behind it for Tuesday and Wednesday of next week. Bottom line is one more pool or beach day before the weather pattern switches to seasonal autumn.
MANY THANKS TO

TROPICAL TIDBITS

FOR THE USE OF MAPS
Please note that with regards to any tropical storms or hurricanes, should a storm be threatening, please consult your local National Weather Service office or your local government officials about what action you should be taking to protect life and property.